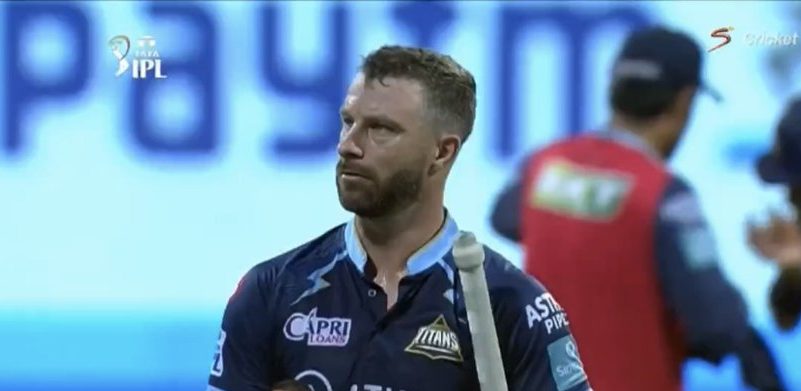 Mathew Wade, the Australian wicket-keeper who's now playing for Gujarat Titans in IPL 2022, is reprimanded by the match referee in last night's match.
Wade was seen angrily throwing his bat and helmet after being given out for an LBW, which he sent up and failed. This led him to walk off the field by shaking his head, coursing words, and creating a ruckus in the dressing room. Post-match, Wade admitted the offense and was left with a reprimand by the match referee.
Wade Loses His Cool After Departing
Even after having a sophisticated DRS method, umpires tend to make mistakes, and players remain dissatisfied sometimes. Last night's act from Mathew Wade was one such thing, where the Aussie wicket-keeper cum top-order batsman was seen angrily walking off the field after a failed DRS.
Running at 16(12), Wade was trying to justify the chance he was given after a number of failures this season. But at the end of the powerplay, he was duped by RCB's Glenn Maxwell for an LBW, where the on-field has given out.
This led Wade to go up straight away, and the DRS suggested there might have been a deflection when the ball passed Wade's bat, but there was no significant spike in Ultra Edge when the ball passed the bat. Thus, the third umpire too confirmed this as OUT, which led Wade to walk off the field dissatisfied.
— ArnavTalksCricket🏏 (@TweetsByArnav) May 20, 2022
He was seen walking back angrily, shaking his head, and throwing away his helmet and bat in the dressing room. This was considered a Level 1 offense under the Article 2.5 of ICC's Code of Conduct, to which Wade has later admitted. This led the player to be reprimanded by the match referee and let go.