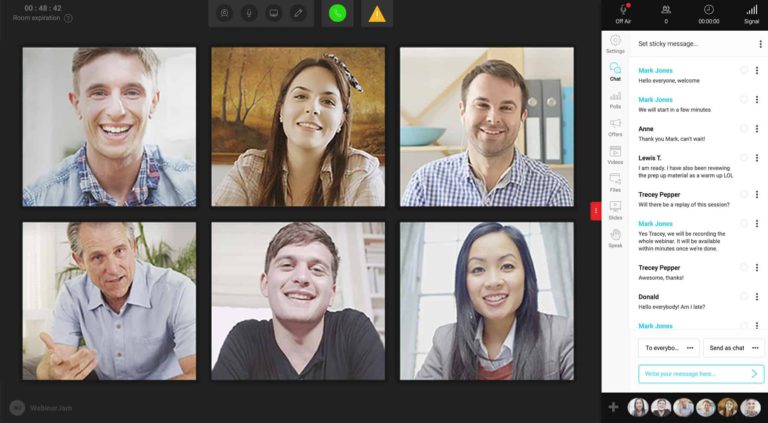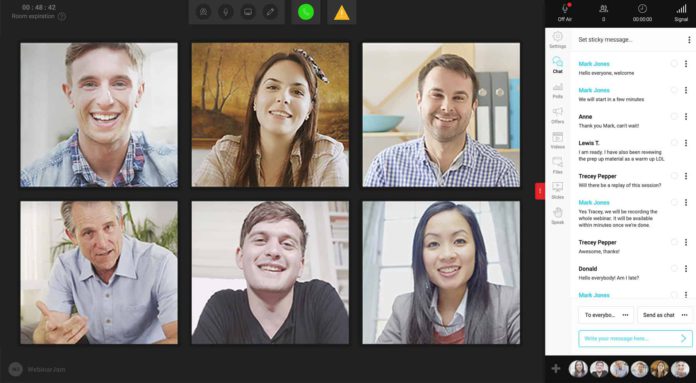 Marketing is one of the critical components of any organization. This would be the only department that brings in more customers with interactive and creative techniques. But if your business is online-based, marketing through webinars is an effective way to rake in customers. And, what could be a better webinar platform to engage and your attendees in the best possible way?
We introduce you to WebinarJam. It's a robust webinar platform with extensive attendees support and simple tools for conducting a productive webinar. We checked the integrity of WebinarJam to hold meetings of hundreds of attendees at a time, and it keeps us all together seamlessly.
WebinarJam couldn't just be another regular platform, as it distinguishes with participant capacity for substantial marketing campaigns at lost cost. Its rivals like GoToWebinar, Cisco's WebEx, etc. aren't that appealing. And if you think platforms like Zoom, GoToMeeting, Skype, etc. are useful, they may, but limitedly. These softwares are more like a friendly video conferencing rather than professional webinar inducting.
Thus, WebinarJam is the best pick if you hope to add any customers. It has a niche for engaging your viewers with simple tools, that may interest viewers to stay long hours sticking to your webinar. After all, keeping hold of your potential conversions is the important thing you should care about through your webinar. Here we list out a few reasons why WebinarJam should stand a chance.
Reasons to pick WebinarJam
Aside from having common perks like being easy and attentive customer support, WebinarJam is marked for;
Cheap Pricing
If you think pricing values determine the security standards, you're wrong. WebinarJam provides a robust platform at some of the industry's low-cost prices. You can start WebinarJam at $39 a month. If not, trail this software for just $1 for 14 days. This can help you determine the right choice.
Get 14 Day Trials of WebinarJam
Training Videos
Though handling the platform is a no-brainer, there are videos set at every level to help you in case you stumble anywhere.
Interactive Webinar Handling
If not for price and simplicity, WebinarJam is notable for webinar features for easy attendees handling, conducting the meeting, and other features. Apart from sending public and private messages to attendees in a live webinar, you can even bring up any attendee onto your screen and show to the entire community in live. Sharing thoughts and doubts in this way help understand better.
Best of all, the webinars are auto-recorded. And these can be sent to your attendees after the live webinar, and they can view whenever they want. There are several platforms like YouTube, Facebook, etc you can share your automated webinar to. There are features like popup buttons, countdown timers, and offers templates to set into the webinar to make your attendees more engaging. Further, landing pages of your webinar can be customized as per your choice.
While these being pros, we note few cons too.
No Demo Account
There's no free plan, after all, so you should be trying this platform at least by paying $1 (trail) for 14 days. We wish WebinarJam to have a freemium version with limited attendees, but, that would make the platform another friendly video conferencing software. If it's something about winning customers' attention, that should have tools to engage them in. Thus, no free accounts.
A 10-Second Lag
Attendees claim the video being displayed was delayed by 10 seconds then the actual recording. Of course, every webinar or video conferencing platform does take time to transmit the renders among viewers, but a 10-second lag isn't so desirable. WebinarJam could work on this more to reduce the timing differences. And if it can hold attendees until last with less time gap between recordings, it's a win.
On a simple note, if you're able to distinguish between video calling and webinar, participants, and attendees, you should realize WebinarJam is the software for a commercial purpose. If you make your mind to try this sturdy platform, they've got three types of plans to choose from. And every one of these can be started with a $1/14 days trail as said. Check out;
Basic
You can set up to 2 presenters and accommodate up to 500 attendees, with 2 hours of maxim duration in one go.
Professional
Here, you can set up to 4 presenters and 2,000 attendees for the 3-hour duration. There's an Always On mode and Panic button available here.
Enterprise
At last, if you want to accommodate up to 5,000 attendees, you can try this Enterprise plan to set up to 6 presenters for 4 hours as maximum duration. Here, along with what you get in the Professional plan, you get a dedicated Control Center for handling things with more commands.
Try it: Get 14 Day Trials WebinarJam
How much does WebinarJam Cost?
WebinarJam cost is depending upon the plan you chose. WebinarJam has 3 plans, basic cost you $499/Year, Professional $699/Year and Enterprise at $999/year.
What is difference between WebinarJam and EverWebinar?
WebinarJam is for the Live Webinar and EverWebinar is for the autmated webinars, that means you can streaming already recorded webinar again and again.