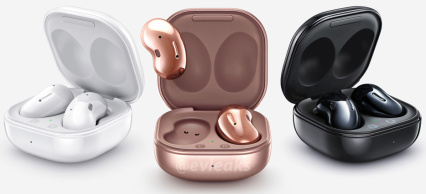 Images of Samsung's upcoming true wireless earbuds have leaked again, showing more details this time. Leaked by Evan Blass on Twitter, the new Galaxy Buds Live are kidney-bean shaped earbuds that don't seem to have silicone ear tips but still fit in your ear finely. These are set to unveil official alongside Galaxy Note 20 and Galaxy Watch 3 next month.
Galaxy Buds Live – Samsung's True Wireless Earbuds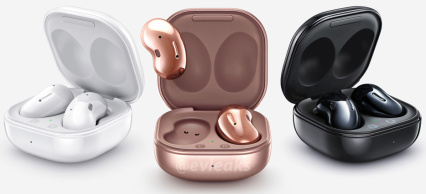 May Samsung is taking too long to launch the official gadgets of next iterations, leaksters are actively dropping designs and renders of what those official devices look like now and then. Yesterday, Evan Blass has leaked the images of upcoming true wireless earbuds of Samsung, in his Patreon account.
It shows two high-resolution images of bean-shaped earbuds, touted as Galaxy Buds Live rather than Galaxy Beans. These are shown in high details of one side (outer) along with charging cases in three different colours – Black, White and Bronze. Image shows the Galaxy Buds Live's outer shell having a pair of holes, probably microphone to hear while on phone. And they're about the capsule-like cut.
Besides the typical design, there's yet another surprising thing to note. There's no glimpse of silicone ear tips found. And this makes us wonder how well it should be crafted to adjust the earbud and stay, handling all the bumps. Leaks also show the charging cases that are crafted like a circular square. The charging slots within are having pins and probably magnet to align buds perfectly and charge.
This so-called Galaxy Buds Live would be second true wireless earbuds launching by Samsung this year and would come sometime in August. These should be coming alongside Galaxy Note 20, Galaxy Watch 3 and Galaxy Tab 7.