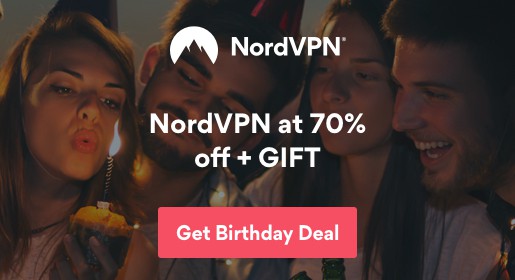 As you feel VPNs are essential for private browsing, picking the right VPN that's cost-effective and safe is hard too. So we present you with the cheapest, yet secured VPN of all time – NordVPN 2020.
NordVPN tops in terms of pricing as it feels cheaper if picked for the long term. Aside, the service is rich enough to protect one's identity online. Users' traffic is tunneled into NordVPN's wide range of servers, making it hard for adversaries to pry on you. Further, the service has got many other features as blocking ads, kill switches, etc.
NordVPN, 70% OFF, Click to Activate Deal
We've tested NordVPN by following metrics, which we felt are essential for any VPN. So here we go;
Location
NordVPN bet the VPN king, ExpressVPN in terms of server count, as the former ones having 5,000+ servers, which is greater by ExpressVPN's 3,000 servers. All those servers are spread over 62 countries, which is enough for a user to pick one from.
Speed
The only factor that's discouraging NordVPN is speed. It has enough locations to make it faster, but somehow, it's not able to. The large network it maintains has the best servers somewhere, at least one in every different region. And when tested through that, it's felt mediocre.
NordVPN's maintained an average ping of 112, with download speeds of 77 Mbps and upload speeds at 6.45 Mbps. That's okay, if not worse. But the specialty servers of every region give their best. And these are recommended to be picked based on their performance.
Privacy and Security
Something cheaper isn't always weaker. NordVPN has adequate resources to guard its users' traffic. It follows 256-AES encryption and OpenVPN and IKEv2 VPN protocols. It has a killswitch to stop traffic if accidentally disconnected, and even blocks ads and malware in your surfing. It has passed all our DNS leaks and WebRTC tests.
It operates from Panama, which has one of the best privacy laws. NordVPN too follows the no-logging policy, and the only info it collects from the user is the server load. Like others, it tracks cookies but will not use to store and spy on them. After all, it is in par with security industry standards.
Streaming
One of the main reasons to choose a VPN to unlock the location restrictions. NordVPN does it fairly as a user can watch all the shows irrespective of areas he lives in. A simple switch to the desired location lets user watch their favorite shows and series from Netflix, Hulu, Prime, or Disney+.
Accessibility
The UI and tools set for handling aren't quite hard. NordVPN makes the navigation easy and quick for one to choose their desired servers. The service, when signed up, presents you with a global map and pins of all its servers to choose from. The bad thing, they aren't labeled, but you can still pick based on the map.
If not, you can search the name of the server location and it'll pick you the best server in that region. Even before that, if you have no choice, it shows its specialty servers where the signal strengths and process is great to give you the best.
Further, all the options required for blocking things, saving your locations, etc are available in settings. NordVPN has a mobile app, desktop application and a browser extension to choose from.
Pricing
NordVPN's major tactic here is with pricing. It may seem to force a customer to enroll for a longer duration, but it's worth it. Considering the service it provides, it's a better alternative to ExpressVPN or other costlier services.
It can be paid through cards and even cryptocurrencies like Bitcoin, Ethereum, or Ripple and if not satisfied within the trial period, can revoke your membership and claim you amount you've paid. As simple as it is.
Try it here: 70% off on NordVPN
Is NordVPN worth the money?
NordVPN as compared to its most of the competitor right Now. Then, its worth the money. If we bought annualy subscription of the we get upto 70% off.