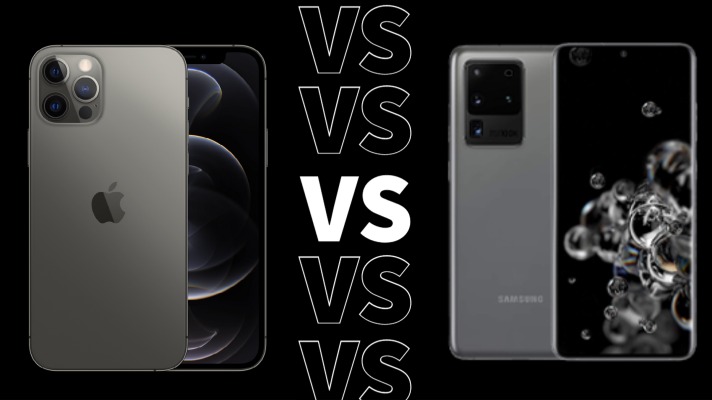 Apple has finally made its foray into 5G space with its new flagships – the iPhone 12 series. While the community is happy with the announcement, they're slightly stepping back due to its restrictive features even at a high price. Thus, some have chosen to check on alternatives like Samsung's Galaxy S20 series, which is equally competent.
And if you're one of those having trouble picking one, here's our suggestion. We've compared both Samsung Galaxy S20 and iPhone 12 on paper, to where how they differ. The reason we've chosen base models is to have a fair comparison. So here we go.
iPhone 12 vs Samsung Galaxy S20
Display
Starting with the display, both these handsets sport an OLED panel. While this a good thing, screen size, resolution and refresh rate put Galaxy S20 ahead of iPhone 12. The S20 handset has a 6.2 (3200 × 1440p) display vs iPhone 12's 6.1 (2532 × 1170p). Also, the former beat the latter with a 120Hz screen refresh rate, which the base iPhone 12 lacks.
Chipset
While the Galaxy S20 beats iPhone 12 in the display, it falls behind in terms of processor, and eventually in speeds. We've seen that Apple's A13 Bionic has already beaten the Snapdragon 865 in benchmark scores, making it a winner already. Now, the iPhone 12 possess an A14 Bionic chip, made on 5nm process which is far better than Galaxy S20's Snapdragon 865, made on 7nm process.
Cameras
While we don't have the benchmark scores between these two chips already, we expect Apple's handset ahead of Samsung's this time, basing on past data. Moving on, Samsung's Galaxy S20 seems to have a slight edge in the camera department. Here, the iPhone 12 has a dual 12-megapixel lens with f/1.6 and f/1.2.4 as wide and ultra-wide angle lens respectively. They can shoot 4K upto 60fps with Quad-LED flash.
In Galaxy S20, it sports a 64-megapixel (f/2.0) primary lens with 1.1x optical and 3x hybrid zoom. This main sensor is followed by a 12-megapixel (f/1.8) as wide angular and another 12-megapixel (f/2.2) lens as an ultra-wide sensor. Apart from 4K@60fps as iPhone 12, these are capable of recording 8K videos at 24fps! Upfront, the Galaxy S20 has a 10-megapixel (f/2.2) with PDAF.
Battery
And in iPhone 12, it has a 12-megapixel (f/2.2) lens. These two are capable of shooting 4K@60fps. Further, the iPhone 12 has a 2815mAh battery with 20W fast charging support, whereas the Galaxy S20 has a 4000mAh battery with 25W fast charging. While both support wireless charging, the Galaxy handset has a reverse wireless charging too.
Connectivity
While this puts Galaxy S20 ahead of iPhone 12, it falls behind in terms of 5G connectivity. Apple has set both 5G bands, sub-6GHz and mmWave ranges to in the base iPhone 12, whereas, in Galaxy S20, it's just the mid-band 5G, meaning only the sub-6GHz except the piece from Verizon which has mmWave too.
Others
Finally, in terms of design, both the phone possesses an aluminum body with IP68 ratings, thus water-resistant. While the Galaxy S20 has a pinhole display, the iPhone 12 has a regular and old rectangular notch. If you're unable to pick one from either based on these on-paper specifications, wait until the benchmark scores appear, and we review them again. As of now, seeing both the handsets having almost similar specs in each case, picking iPhone 12 over Galaxy S20 is better due to pricing. As iPhone 12 costs $799, the Galaxy S20 is priced at $999. But ultimately, it's upto you to pick a handset that fits you.