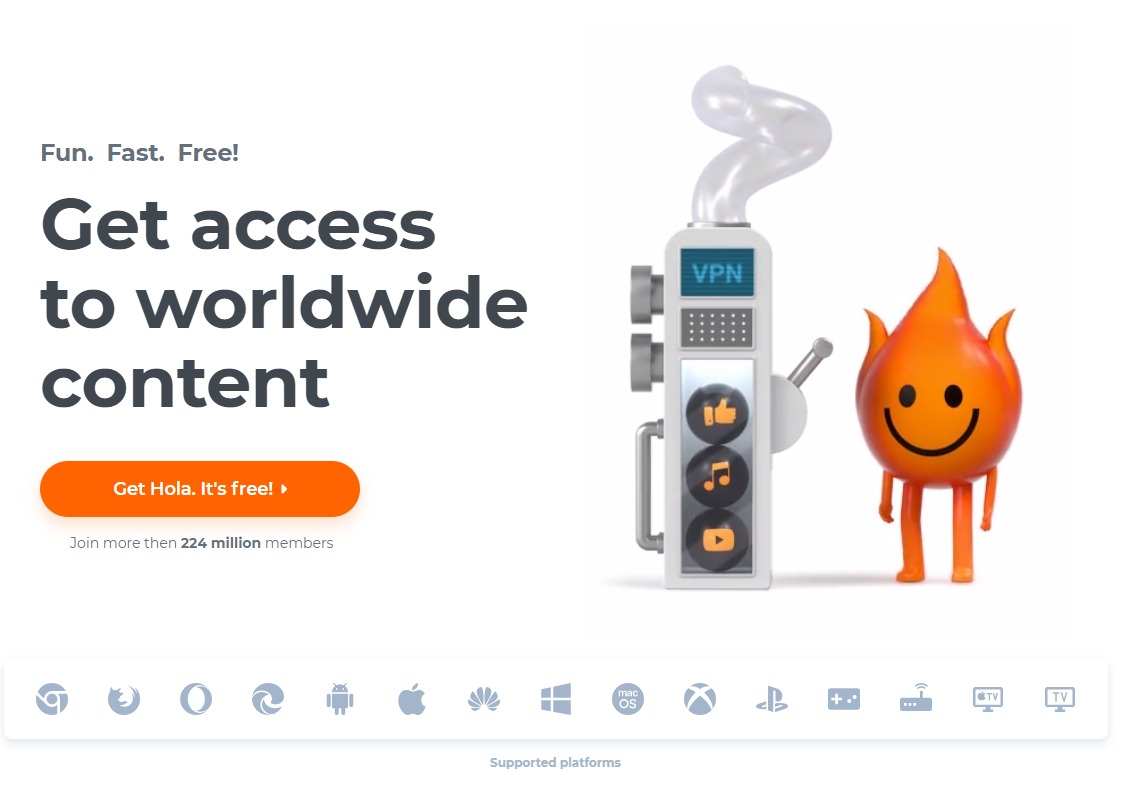 Well, if you're one of those random users looking for a VPN for just content unblocking, look no more. We got you the best and free VPN service that fast, and fulfills all the purposes a VPN should do. It's the Hola VPN. The makers of Hola VPN crafted this with several purposes, and in a typical way.
Hola VPN Subscriptions
Hola VPN has both free and paid versions, and your freedom of doing everything on the internet depends on which you pick. With the free version, your daily browsing data limit will be capped to an extent and will be asked to upgrade to premium for more. Also, you'll be seen as a peer in its ecosystem (More on this later).
And in the paid version, you are a free bird! You're not limited with any bandwidth caps or have more privileges than the free version. These include unlocking more sites in more countries and having your traffic routed through high performing dedicated servers, as other VPNs. This is different from how free users are protected, as they're into the peer-to-peer model.
Yes, the peer-to-peer system is a community-powered VPN model, which is adopted first by Hola. This works by making every participant (user) a peer (node) and using their devices to tunnel each other's traffic. This eventually masks the IP address of a user, since their traffic is carried by several others, changing locations rapidly.
Thus, Hola VPN's free version is the model that's based on traditional VPN architecture, but the modern peer-to-peer technologies. This gives fair protection and doesn't thrust down the network speeds often, but, just limited by data cap and various regional choices. You'll soon be promoted to choose a premium plan, which makes significant improvements in your user experience.
This is because the premium plan cuts off using your device resources for its network tunneling, so you're not the peer in here. You can unlock any website in any country securely and fastly with its 1,000+ servers across the globe. With a premium subscription, you can hook up to ten devices at a time, and has no data limit as said before.
It prioritizes the support for premium users over free users and maintains a strict no-logs policy for better privacy. And the best thing of all, Hola VPN is available for a wide range of devices from phones to computers of all kinds and from routers to even gaming consoles like PlayStation and Xbox! It can be obtained by apps, system software, and even browser extensions. But to note, the extensions for Chrome and Opera browsers operate in a standard VPN model.
For all these reasons, it was rated 4.6 out of 5 by Trustpilot. While existing users know its worth and renew in time, new users can try with several assurances to gain confidence in the service. This includes a 100% money-back guarantee within 30days and a cancel-anytime policy.
The plans are pretty flexible for Indians, ranging from monthly (Rs.549 a month) to up to 3-year plans (Rs.109 a month). And as a rule of thumb, the longer pack you subscribe to, the more you can save. For others, you can subscribe to a year-long plan for just $49. And you can pay for these with any of the various payment systems from PayPal to credit cards or even GPay and Alipay.