The granulated T-Rex dinosaur game in Chrome browser when gone offline is never boring, at least to me. While it interested many till date, an upgraded mod version of this old game, named as Dinoswords is even more fun. Players can equip dinosaur with several weapons like swords, guns, crossbow etc in the new game, and even has prizes for those standing high at weekly ranks.
Google Chrome Dinosaur Game Gets an Upgrade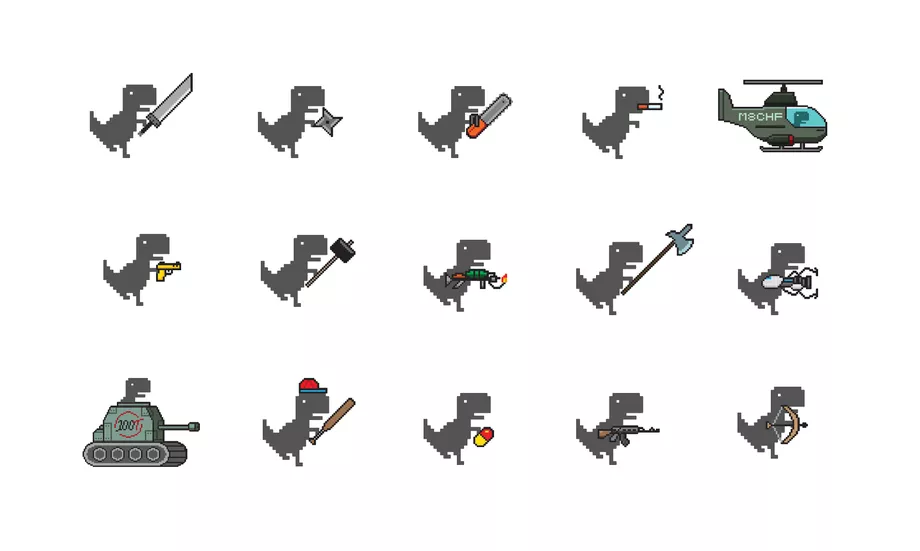 Embedding a simple 2D game like dinosaur run in Chrome browser is very helpful, as it keeps the user entertained whenever there's an internet connection drop. It's played so much that, some users are even turning off their data connection to play it sometimes. It's simple too, as it doesn't require heavy resources or more keys, but a quick tap whenever you see a barrier.
But, ever thought how the long the game would be like that? Though Google didn't care about upgrading it to the next level, internet collective MSCHF and 100 Thieves have collaborated to make it more interesting. The new mod game is still a 2D one but gives more power to the dinosaur. Players can add guns, swords, crossbow and even a helicopter or military tank in the run. This additional weaponry makes the run easy, as you can chop off or crush the cactus barriers now.
Overall, there are 26 different weapons players can equip the dinosaur with, all having their specific key to operate. This becomes easy if you're playing on the phone since you still tap on a single button to use the weapon. If you're interested in playing it, here's it – Dinoswords.gg.