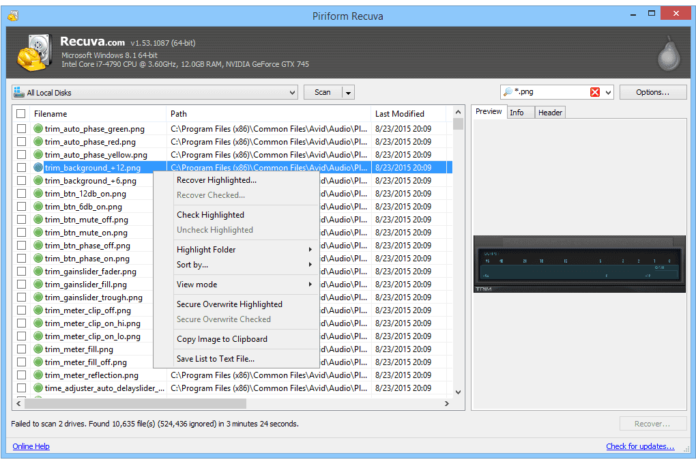 Are you looking for the best free software to retrieve your lost files? Well, you've made it to the right place then. Recovering deleted or accidentally lost data is often a daunting task, but glad there are numerous softwares to help you. Among them, EaseUS, Stellar, and Recuva are some of the best picks. Since you need only one of them, know what they're capable of to the choose the best among them.
We've tried and are suggesting these on basis of how well they perform, the time taken for scans, customer support and the cap for retrieving data. Well, since these are free versions, realise that you can remove these limits and get premium support in their respective paid plans. So better know them all before picking one;
Performance
A major category to judge them. The performance here describes the time taken of scanning, both standard and deep, and how much of system resources they're consuming meanwhile. This depends upon the system capabilities too. But on an average PC of 8GB RAM and 1TB HDD, here are our results;
Stellar had taken over 4 minutes for standard scan and about 12 hours for the deep scan. Further, it used about 75% CPU power and 200MB of RAM. Here, though the scanning part seemed fair enough, CPU usage is outrageous. While its counterpart, Recuva did the standard scanning in just over a minute, but the deep scan took about 24 hours! Further, it used about 600MB RAM and 10% CPU power for this process. Here, apart from deep scanning duration, others are considered okay.
At lest EaseUS took just a minute for standard scanning and about 2.5 hours for deep scanning. For this, it had consumed around 250MB of RAM and 30% of CPU, which is great than the other two. This also means you can work on other light applications meanwhile the process. While all three have bought back up all the files, doing that with fewer resources and time is appreciable here. Thus, EaseUS makes a clear niche over the other two here.
Features
Coming to device support, EaseUS and Stellar softwares are available for both Windows and Mac systems. Whereas, Recuva is only available for Windows and its free plan is only personal use. While these cons pull Recuva back than its counterparts, it gains a point for not having a limit on data recovery! On the other hand, EaseUS and Stellar have data caps of 2GB and 1GB respectively.
Moreover, data recovery in Recuva is so effective that, it can retrieve the lost files from damaged drives and Virtual Hard Drives even! Its counterparts aren't dull though. EaseUS has device-specific features and scoops up data from inaccessible storage devices like corrupted disks. It's praised for enlisting the files amidst the recovering process, which can be previewed too. This helps the user to retrieve only those files that are important and plan his data cap accordingly.
At last, Stellar goes outstanding here as it supports a wide range of devices and file formats. It can retrieve files from virtual hard drives, non-bootable, encrypted disks. Optical media recovery is possible too. Further, users can add custom file formats for enhanced search.
Assistance
Finally, closing with an important decision-maker, the Support options. While all of these three have email help, Stellar and EaseUS are even more helpful with Live Chat and Phone call support. This garners them an additional point and makes them better choices.
Well, considering the average process time, data cap, and support solutions, we'd love to call EaseUS as our final option. But again, it's just us. You can choose the one that fits your needs. Realizing what you need is important, as if there are unlimited files to be recovered, choose Recuva. But if you have limited data under 2GB and need assistance to execute the process correctly, try EaseUS or Stellar.