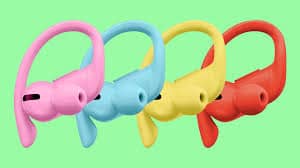 After a year of launch, Beats have bought new colors to its premium wireless earphones, Powerbeats Pro. These new variants will be sold from June 9th onwards on all partnered sites and stores, and for the same price of $249.95. Beats made a press release on the same and have collaborated with FaZe clan for surprise unveiling.
The new colors – Spring Yellow, Cloud Pink, Glacier Blue, and Lava Red are more vibrant and appealing than previous ones. These models have passed the FCC tests with all requirements and are set to be sold from June 9th onwards. Apart from the regular press release, Beats have joined with FaZe clan gaming group to show their new Powerbeats Pro, in all the colors.
The new earphones will have the same capabilities as earlier counterparts;
Though it doesn't do active noise cancellation, the passive blocking is fairly applaudable. It delivers the dynamic and balanced sound and stays alive up to 9 hours! Further, the charging case will let you go for another 15 hours, thus 24 hours combined. You can juice up the earphones for 1.5 hour playback time within the first 5 minutes.
Apple's H1 chip within makes it's easy to connect to your smartphone and calls for voice assistants like Siri. The ear hooks are fairly helpful for fitting the earphones and works well against jumps and workouts. It has buttons on each earphone to let you set volume, switching tracks, etc. You can even share them with your friends to listen to songs simultaneously. After all, it's a package for the premium listening experience.
Ever since Apple acquired Beats from HTC, it's pushing them in all ways possible. It leveraged its H1 chip for easy pairing with Apple's Siri and even selling the earphones through its website. While the regular editioned colors like Navy, Moss, Ivory, and Black are available from beatsbydre, Amazon, and Apple, the new colors will be sold through Apple's website again, partnered retailers and stores. Starting June 9th, 2020, you can purchase these new variants for the same price of $249.95.