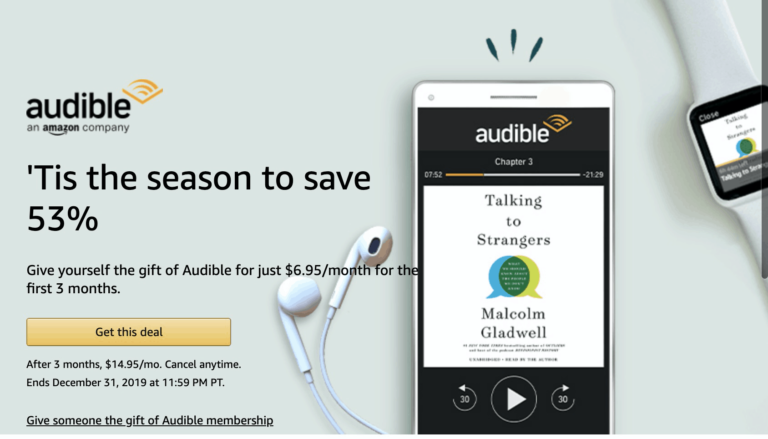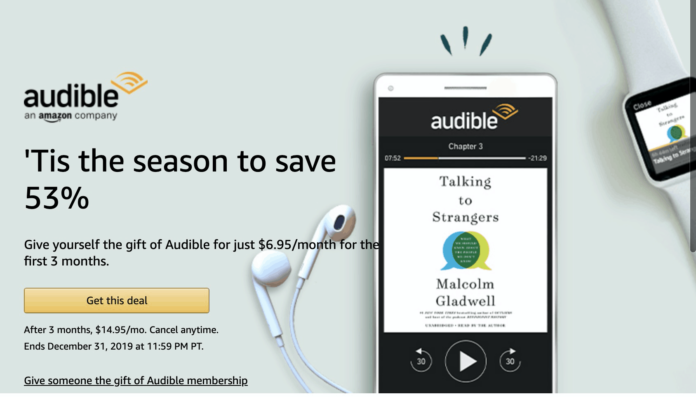 With more than 200,000 audiobooks in its database, Audible is the largest producer and seller of audiobooks in US. You can classify your selection over Fiction, Mysteries, Biographies, Kids, History etc and listen to audiobooks at anytime by downloading them.
The company is big enough to create its own original audiobooks just as Netflix, Amazon's Prime, HBO etc does in video streaming field. It even employs publishers and individual authors to create thousands of audiobooks every year, which are then distributed to Amazon and iTunes.
The company is now running a Cyber Monday Sale of its audiobooks and subscriptions where you can get buy audios from as low as $5. Further, the exclusive deals for members are as below;
Subscription Discount
Here, one can get the Audible Prime membership for just $6.95/month for the first three months. That's a 53% off on general price. After which, you'll be charged $14.95/month that can be cancelled anytime. This subscription entitles you to have 1 audiobook and 2 Audible Originals each month. Further, you can exchange your audiobook within a specified period of time if you don't like it. Starting December 1st, this offer will be live till December 31st 2019.
Get this Deal here: Free Trial 
The Members Only Deal
On the banner of BLACK FRIDAY ALL WEEK, Audible is giving a free Audible coupon, that's usable to buy other audible books later. Here, people who're members of Audible and have purchased three or more titles from the given selection in the Black Friday All Week Sale (dating between 24th November to 3rd December) shall get a special coupon on December 10th 2019. They can redeem it to get credits and buy other Audiobooks. The coupon is valid for next 30 days after redeeming. If you're already having one, redeem it here: Coupon Redemption
Get this Deal here: Free Coupon
Below are titles where you can select one to qualify. The bunch has a total of 25 famous series to choose from. It goes as titles like Throne of Glass, Walt Longmire, Red Rising, Outlander, Galaxy's Edge, Alien, Hell Drivers, Summer, Evan Smoak, Ladies Detective Agency, Master & Commander, Baby Sitters Club etc are available under this offer.
This offer shall be closing on December 3rd at 11.59PM, as specified by Audible. So go grab it when live.