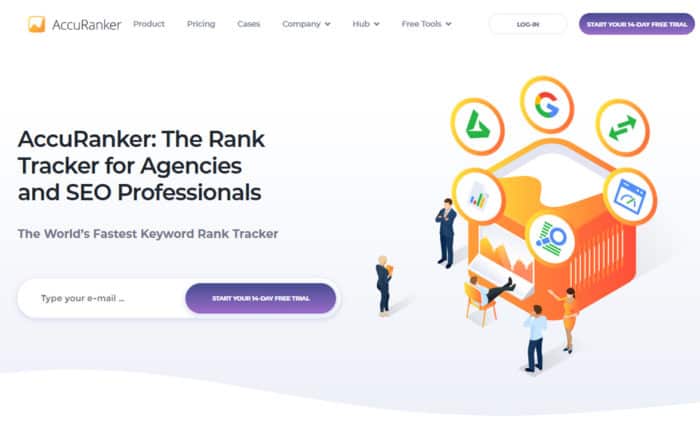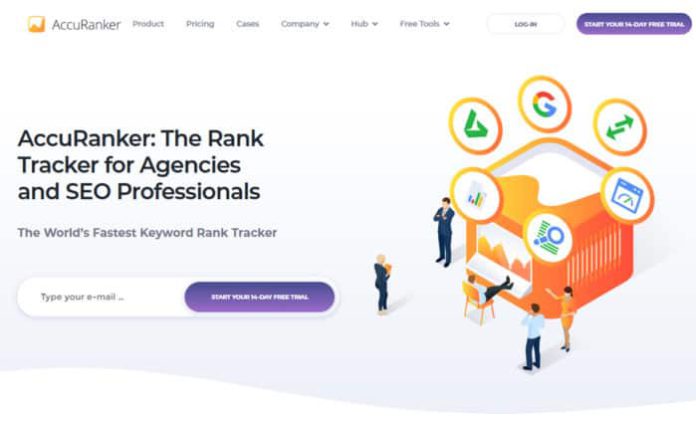 Hoping that you have a fair knowledge about keywords and page rankings in SEO, we'll talk about one of the finest tools for digital marketers – AccuRanker. This keyword rank tracker is used by thousands of brands, agencies, and professionals including IKEA, McDonald's, HBO, Salesforce, Hubspot, etc.
And this is why?
The Fastest Keyword Rank Tracker
Starting with its keyword ranking updates, AccuRanker boasts about being the world's fastest keyword rank tracker. And it's true. It justifies this claim by providing valuable insights into keywords in seconds. Though the keywords are automatically updated every 24-hours, you can manually refresh keywords for every second hour.
It updates the data in seconds and uploading/downloading of keywords in bulk is simple. You can upload/download thousands of keywords for your client rankings and see how worthy they are.
If you're an agency, you can add this software as an API and track keywords.
Share of Voice analytics
One of the key features for every digital marker needs is the Share of Voice. And AccuRanker is equipped with it. In case you're not familiar with, Share of Voice (SOV) is the weightage of popularity your brand is having in the market. It's measured by percentage and is known from all the online sources like blogs, reviews, etc revolving around your brand.
Customizable Templates
Apart from having the best and fastest keyword rank tracking, AccuRanker is praised for being simple. It's UI and ability to customize templates of reports are just great. You can customize the report page with whatever you wanted to see by simply dragging and dropping those metrics. All these can be scheduled to update regularly.
You can filter your wants across its wide range of metrics and can even connect to various analytics platforms like Google Analytics, Google Data Studio, Adobe Analytics, Databox, or even add as an API to know better and quick. You can import the bulk data regarding keywords through a CSV file and connect the results to Google Drive to be opened via Google Sheets.
You'll be provided with a wide range of choices to filter the requirements. For example, you can track keywords ranks in terms of global or local. It even deepens to offer you the choice of picking in multiple locations like postcode, address, city, or region! You can add as many locations as desired to track them all. Well, not just by locations, by search engines too. Track keyword ranks across Google and Bing, the two most popular search engines. You can also check them on Baidu, Yandex, and YouTube.
SERP and Competitor Tracking
Further, you can track how your site's performing via its SERP tracking. You can track keywords that are trending in either desktop or mobile version, and see the traffic they're garnering. AccuRanker can be valuable with the feature for tracking your competitor's keywords ranks!
You can track what keywords your competitor is following and how popular they're. Further, you AccuRanker provides a top 10 list of close competitors for your keywords, so you can plan your stuff accordingly. All these advanced metrics are provided for just $99/month if picked for a yearly plan. You can track up to 1000 keywords under this, and extended up to 50,000 in upgraded plans.
Wondering how AccuRanker gets all this data? It's just scraped out from the open internet we all are using. While many services do the same, it's how good they're arranging the data for us, matters. AccuRanker's services are comprehensive and aid even the newbies to excel in digital marketing. Still not trusting? Try out to find out – AccuRanker