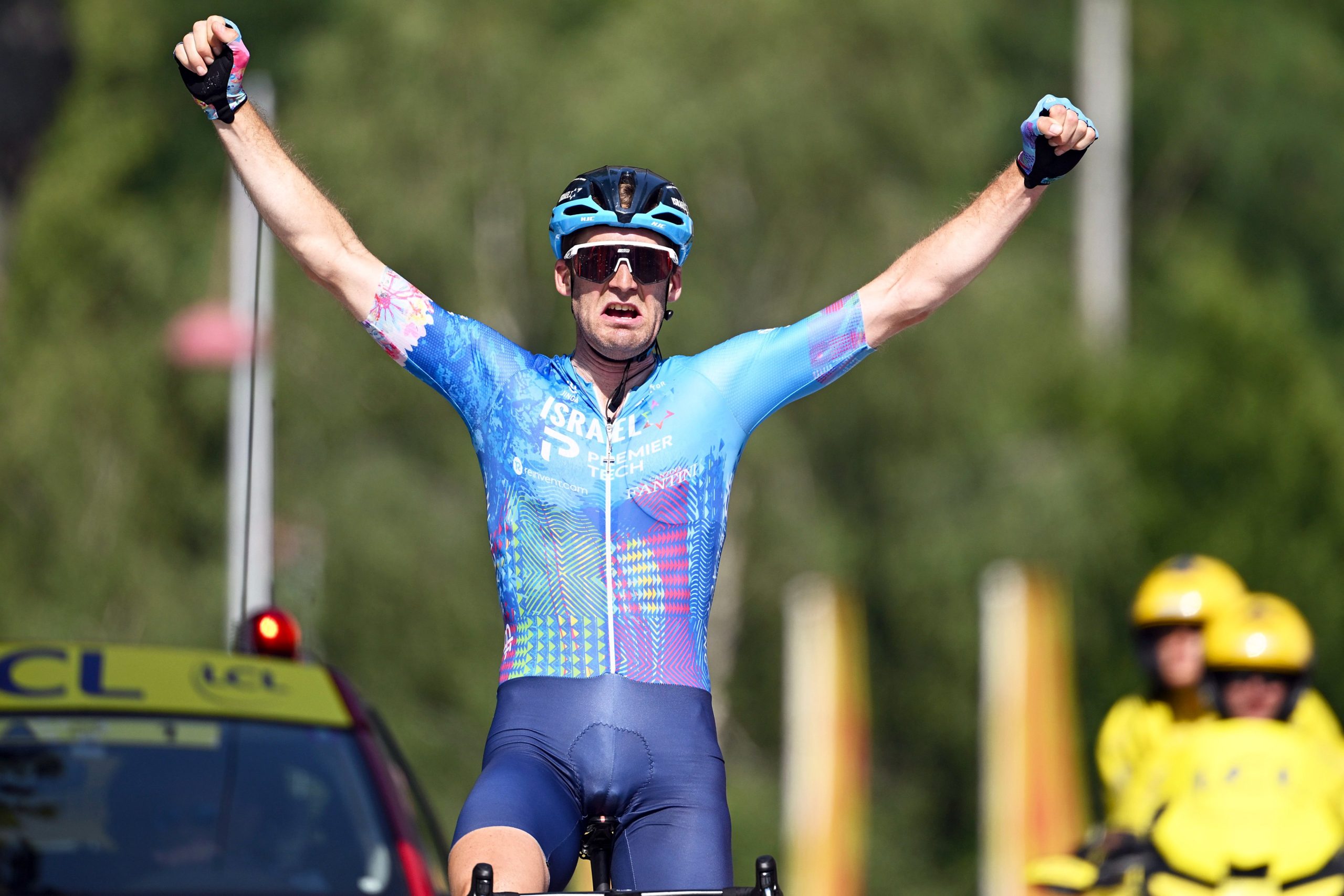 Houle is only the second Canadian to ever win a stage, the top three riders continue to perform well, and Nairo Quintana moves up to fourth place.
Hugo Houle, a rider from Canada, won stage 16 of the Tour de France on Tuesday and dedicated his victory to the memory of his brother, who had passed away not long before. The victory brought Houle to tears.
As the Tour de France headed into the Pyrenees, Jonas Vingegaard of Jumbo remained in first place overall, followed by defending champion Tadej Pogacar of Ineos and Geraint Thomas of Ineos.
An emotional Houle remarked, "It seems incredible, but I know my brother helped me," in reference to his younger sibling Pierrik, who had been killed by a vehicle who hit him and then fled the scene of the accident ten years prior.
"He decided to go for a run in the snow, but was struck by a car and left for dead by the side of the road. Finding him took me a full three hours of my time.
"Since he passed away, it had been my desire to win a stage of the Tour de France," said Houle, who had begun racing in triathlon alongside his brother before devoting himself to cycling. "It was my dream to win a stage of the Tour de France."
The remaining 149 riders out of the 172 that started in Copenhagen continued to climb into cooler region shortly after leaving the blistering stone citadel at Carcassonne. The stage eventually reached a height of 1600 metres, marking the highest point of the climb.
A group of eight riders managed to get ahead of the pack and pass a Canadian Mountie dressed in full uniform. This was a good sign for the lead rider, Houle, who managed to get ahead of his competitors on the 25-kilometer downhill sprint to the finish line at Foix, which was located on the banks of the Ariege river.
Soon after leaving the plains for the first of three days in the mountains between France and Spain, the Slovenian Pogacar, who was 23 years old at the time, began his unrelenting assault, just as he had promised.
While Ineos never made a single attempt to bring Thomas or Adam Yates out in front of the pack, Dane Vingegaard always jumped ahead of the pack and rode with the wind at his back.
Nairo Quintana, a veteran rider from Colombia, had a fantastic day, as he moved up to fourth place on a stage that entered the type of terrain that he enjoys the most.
Home sweet home David Gaudu of the Groupama-FDJ team is currently in fifth place after gaining a small amount of time on the two top category peaks and maintaining it during the long laps downhill where the overhanging trees create a frightening strobe effect.
On the other hand, the French rider Romain Bardet faltered, as did Yates three years after his twin brother won a stage that finished in Foix.
Bardet, who was visibly shaken after the performance, told reporters later, "I don't know." Beforehand, she had immediately after the show taken an ice bath.
"My head was pounding, and I was trembling all over."
Bardet is currently 6 minutes and 37 seconds behind the leader, which is equivalent to being 4 minutes behind third place.
The concept of Vingegaard having an ice bath was met with derision by the philosopher.
He exclaimed, "Oh no, I just can't tolerate that."
The Dane was his typical picture of cool, but after falling on stage 15 and tossing his bike down in an aggravated manner, he lost his composure and his usual image of coolness.
"I'm taking it one day at a time. I am prepared for Tadej to continue attacking me, and I need to be ready to jump in order to avoid giving him any space.
He expressed his gratitude to the entire group by saying, "The complete team assisted me today, and I'm grateful to all of them."
He stated that they would take things "one day at a time" and would evaluate the situation once they were in Paris.
Houle is the first Canadian to win a stage of the race since Steve Bauer in 1988, when he was the last one to do it.
"For the sake of my family, I returned to racing," Houle explained. "On the radio, they were encouraging me to simply take it all in and maintain my composure.
He mentioned his friend and fellow countryman, Michael Woods, and remarked that he was intended to pave the way for Woods. There is currently a younger generation of people living in Canada."
The Tour de France will now spend two days in the upper Pyrenees, which is likely to be where the winner of the yellow jersey in 2022 will be determined.