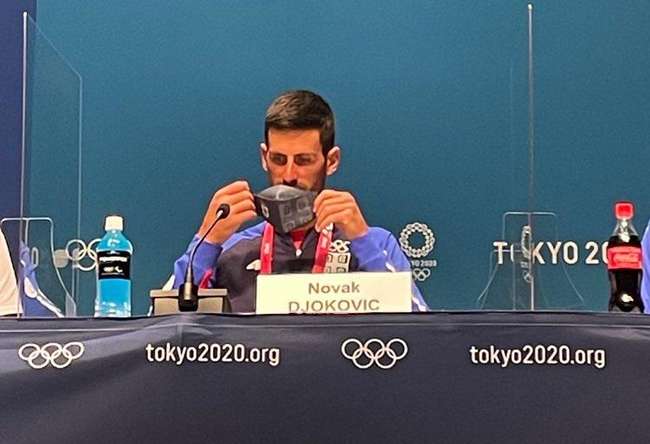 Novak Djokovic arrived at the Tokyo Olympic Games press center for a " surprise " press conference this Thursday morning in Brazil. The Serbian, big star of the tennis tournament, removed his mask to begin the interview, but soon after received a "harsh" from his colleagues in the delegation, who also spoke to the press, and went back to wearing his protective gear. After the curious moment to say the least – as the number 1 in the world was negatively marked for promoting a tennis tournament circuit in 2020 during critical moments of the pandemic -, it was time to respond about the great things it can achieve in Japan.
The 2021 season has been magical for Djoko. The Serb won the three Grand Slams played – Australian Open, Roland Garros, and Wimbledon – and is now aiming for an unprecedented Olympic title. He is the big favorite for gold in Tokyo, as he is the only one of the "big 3″ to compete in the competition. Roger Federer and Rafael Nadal are out.
"I haven't played a lot of tournaments in the last 15 years without Roger (Federer) and Rafa (Nadal). So it's a little weird, to be honest because I tend to compete with at least one of them. world are here," he said.
Djoko seeks a feat that only the legendary Steffi Graf has achieved: conquering the 'Golden Slam. In other words, winning all four Grand Slams and Olympic gold in the same season. The German had the perfect season in 1988 when she was just 19 years old. At 34, the Serbian arrives in Tokyo in one of the greatest moments of his career.
"I haven't talked to Steffi, but if you can get me in touch with her and ask her how she did it (laughs)," he replied to the reporter. "I have a lot of respect and admiration for Steffi, for what she has achieved and what she has left for our sport," he continued.
"When I was thinking about the feat she achieved, I didn't think it would be achievable, I thought there would only be a small chance of it happening again. But now it feels more realistic to me."
The start of Djokovic's walk-in Tokyo will be against the Bolivian Hugo Dellien, on the main court of the Ariake Tennis Park.