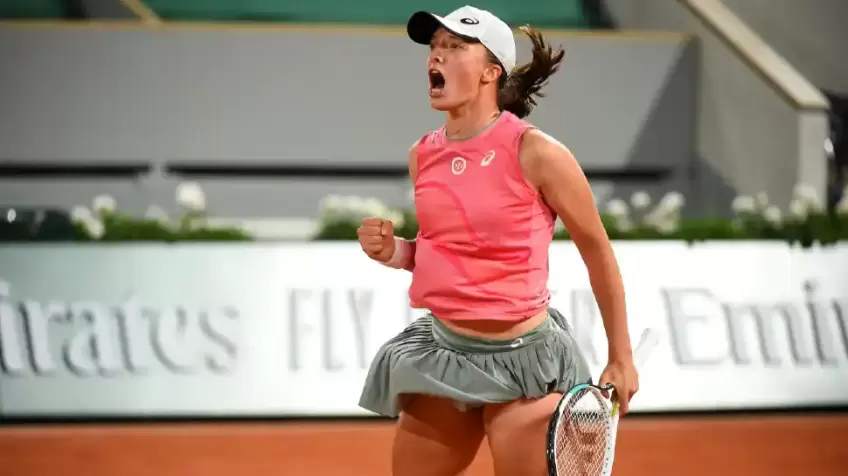 In a thrilling display of power, precision, and resilience, Iga Swiatek, the world's number one female tennis player, clinched her third French Open title in four years. The 22-year-old Polish star overcame a formidable challenge from the unseeded Czech player, Karolina Muchova, in a match that kept spectators on the edge of their seats.
Swiatek's victory was far from easy. Despite a strong start and a commanding lead in the second set, Muchova found her rhythm, turning the match into an intense battle of wills. The Czech player's tenacity was evident as she fought back from a significant deficit, breaking Swiatek's serve multiple times and forcing the match into a decisive third set.
However, Swiatek's determination and skill shone through in the final set. The Polish player, known for her powerful baseline shots and strategic play, regained control of the match. She defended break points under pressure, eventually securing a 5-4 lead in the final set. The match concluded with Swiatek breaking Muchova's serve, marking her second consecutive French Open victory.
Swiatek's win at Roland Garros further cements her status as one of the most dominant players in women's tennis. She has now won four Grand Slam titles, equaling Naomi Osaka's record, and has won every Grand Slam final she has appeared in. Her victory also makes her the youngest woman to win consecutive trophies at Roland Garros since Monica Seles in the early 1990s.
Despite the loss, Muchova's performance in the final was commendable. The Czech player demonstrated remarkable resilience and skill throughout the tournament, even reaching her first Grand Slam final. Her journey to the final, including a stunning comeback against world number 2 Aryna Sabalenka in the semifinals, is a testament to her potential in the sport.
Swiatek's victory at the French Open is not just a testament to her skill and dominance on clay but also a reflection of her mental strength and resilience. As the world of women's tennis continues to evolve, Swiatek's performance at Roland Garros serves as a reminder of her place at the top of the game.