After the chaos of a Qualifying session in Austria, Valtteri Bottas Takes the win in the Austrian GP of 2020. Even the session started with chaos with Hamilton getting a 3 place grid penalty after failing to slow behind Yellow Flags.
Valtteri Bottas Takes the Win!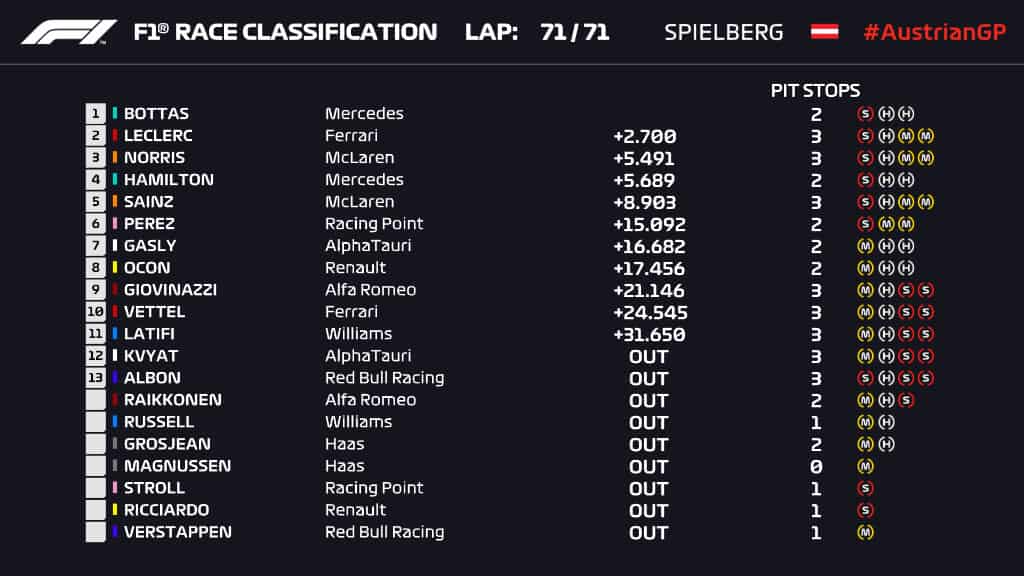 The Race started with most of the drivers taking a knee to support the Black Lives Matter movement. All the drivers were sporting "END RACISM NOW" undershirts to support the movement. With Helicopters doing loops and showing some air acrobatics the race got the lights out.
Valtteri Bottas took the win from Pole. Both of the Mercedes were struggling with Gearbox issues due to the reliability issues. With 11 cars making to the checkered flag, that shows how demanding the circuit is. One has to feel for Alexander Albon, who was denied the podium after a crash with Lewis Hamilton, similar fashion as Brazil which earned him a 5-second penalty. Hamilton, whose morning started with a grid penalty.
Ferrari had one lucky run as Charles Leclerc ended up in the podium as second even with the slow car they had. Sebastian Vettel ended up in the 10th position. Lando Norris of Mclaren ended up third and took the fastest lap too.
The race was marred with many retirements in which Max Verstappen and Alex Albon had an engine failure, both the Haas had brake failures, Stroll and Daniel Riccardo had hydraulics failure. Kvyat and Riccardo with suspension failure and tire failure respectively.
The first race of 2020 in Austria has been entertaining and one is looking forward to next week when the race is happening on the same track but with a different name i.e Styrian Grand Prix.