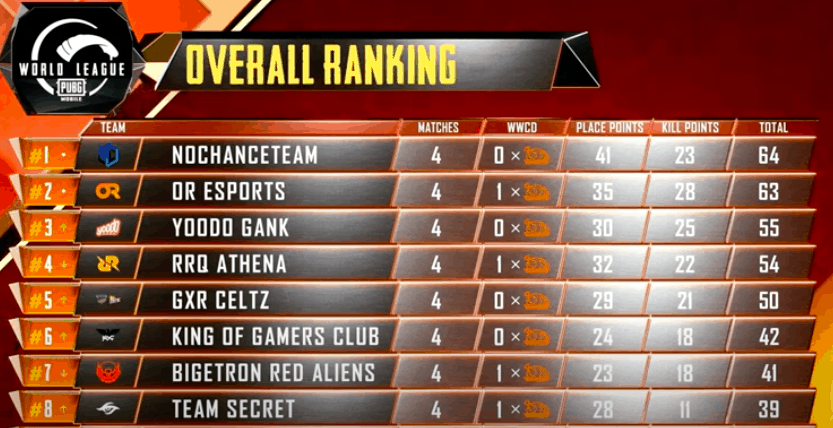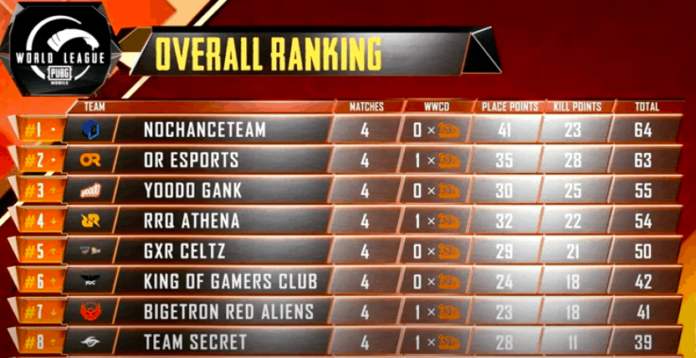 PUBG Mobile World League 2020 West zone has started. After opening weekend matches league play has started. Today we are going to see a total of five games between all teams.
This year PMWL 2020 is going to be played zone wise. Due to COVID-19 players can not gather at the same place so management has decided to keep games according to zones. So we do have East and West zones in PMWL 2020 Season Zero.
Let's have a look at the PMWL opening weekend day 1 results and overall standings.
After day 1 games we can see that team NoChance is leading with 64 points on the very first day they have took zero chicken dinners. 
Orange Rock is having one chicken dinner and they are having 63 points. Just one point away from first place.
Everyone knows that it is not easy to compete with Team BTR but this time Indian teams are having good form and they are giving back to back good performance.
PMWL East 2020 League Play Day 1 Overall Standings
NoChance- Points 64
Orange Rock- Points 63
Yoodo Gank- Points 55
RRQ Athena- Points 54
GXR Celtz- Points 50
King Of Gamers Club- Points 42
BTR RA- Points 41
Secret- Points 39
FreeStyle- Points 35
BOX Gaming- Points 34
MegaStars- Points 33
Valdus- Points 31
TEAMIND- Points 28
ULVLUP- Points 25
TSM Entity- Points 24
REJECT.SCARLETT- Points 20
SYNERGE- Points 19
TEAM T1- Points 19
NOVA GODLIKE- Points 16
MORPH- Points 14
Here is look at the overall standing after five games. All teams have played total 4 games. Tomorrow there is going to be another four games after that top 16 teams will get chance to play in super weekends of PMWL 2020.
If you wanna have look at live-action of PMWL games then you can check that out on the official youtube channel of PUBG Mobile India or PUBG Mobile Esports Official.