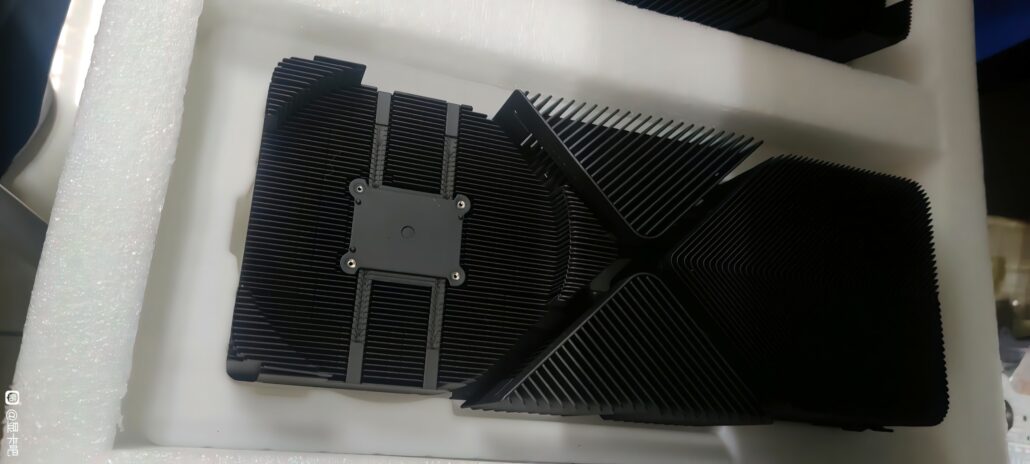 There are new photos that have surfaced online that purport to show a portion of the upcoming Nvidia GeForce RTX 4090 Ti. From the looks of things, this will be a monstrous GPU that may be difficult to install on computers that are not as large.
The images, which were spotted by Wccftech and posted on the Chiphell forums, appear to show the heatsink and cooler of the Founders Edition, which, if it were real, would be Nvidia's own version of the graphics card.
The photos show a metal surround that will wrap around the heatsink, and the name of the GPU, the RTX 4090 Ti, will be engraved into it, giving the graphics card a sophisticated appearance.
The heatsink itself is the component that provides the most entertainment value. It would appear that NVIDIA is planning to move forward with the implementation of a larger baseplate that will not only cool the GPU but also the memory dies.
At this time, heat is transferred from the memory dies on NVIDIA's RTX 3090 and 3090 Ti Founders Edition graphics cards to the heatsink via thermal pads.
NVIDIA will be able to cool a minimum of twelve GDDR6X memory chips with the help of this new heatsink layout. It is highly likely that the printed circuit board for this product will have the same layout as the PCB for the RTX 3090 Ti, which consists of four GDDR6 chips on the right and left sides, three on the top, and one at the bottom.
The additional cooling will be absolutely necessary for the flagship AD102 components as it is anticipated that NVIDIA will use GDDR6X chips with higher specifications on its next-generation cards.
In addition to that, there is a sizable heat spreader made of aluminum for the VRMs, as well as two thermal pads for various components. According to the design that was leaked, the heatsinks that are located on the sides have been upgraded from 23 fins to 24 fins.