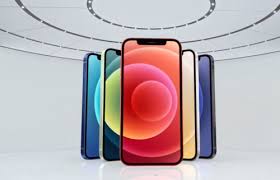 Today, Apple has announced its next-generation iPhones. Despite the number change, the two phones look pretty similar to last year's iPhone XS and iPhone XS Max but with one major change: a third rear camera.
The New iPhone will comes with the 5G. Its the first iphone comes with the 5G.
The new iPhone models will feature Apple's A14 Bionic chip which Apple says has both the fastest CPU and GPU ever in a smartphone. This chip was also previously introduced in the iPad Air in the October event.
Apple also said in the event that they also improved their efficiency, the 5.8-inch iPhone 12 Pro should get up to four hours better battery life than last year's 11, and the larger iPhone 12 Pro Max will get up to five hours better battery than the 11 Max.
The new iphone screen made up of ceramic shield make it 4 times better drop performance than previous models.
It comes with a super retina xdr display. New iPhone 12 size will be similar to iPhone 11. It will be 11% thinner, 15% smaller and 16% lighter than the iPhone 11.
iPhone 12 contain the toughest glass of all the iphones ever.
The new iphone come with Latest charger MagSafe. Also iphone packed with the 12 MP new camera.