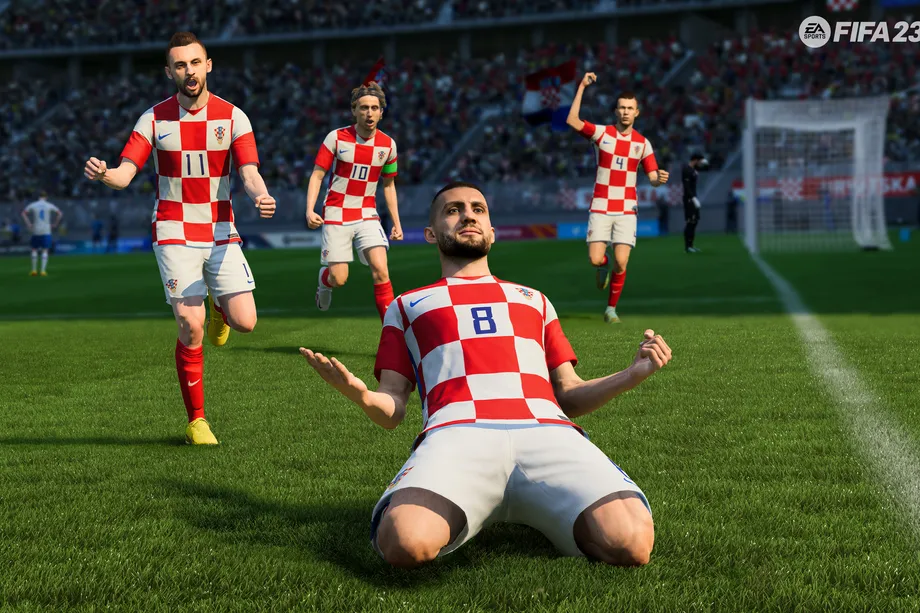 EA Sports has revealed the first look at EA Sports FC, the new face of their football gaming franchise following the split from FIFA. EA Sports FC branding will soon be seen across major football leagues, as the company promises a platform for innovative and immersive football experiences. More details about the rebranded franchise will be unveiled in July.
The new EA Sports FC logo is inspired by the triangle, a dominant shape in football culture. From passing techniques to set plays, the triangle has been woven into the DNA of EA Sports football experiences for decades. The company's press release states, "From the isometric angles of our very first 8-bit experiences and the triangular polygons that make up every pixel of our most modern games, as well the iconic player indicator symbol that appears above every athlete in every match."
EA Sports FC aims to build on 30 years of leadership and history in creating football experiences that bring the global football community together. Nick Wlodyka, the brand's boss, expressed excitement about the future, stating, "EA Sports FC will be a symbol for the sport, a symbol of innovation and change, and we're energized to show our fans more about the future in July."
EA Sports FC will feature matches in the Premier League, La Liga, Bundesliga, Serie A, Ligue 1, and WSL, with hundreds of leagues, teams, brands, and athletes represented in the game. The announcement comes after EA Sports and FIFA ended their near-30-year partnership in 2022, with FIFA 23 being the last EA-made game to bear the FIFA name.
The split between EA Sports and FIFA had been rumored for some time. Reports suggested that FIFA wanted to more than double the price of EA's licensing deal, while EA sought to explore other opportunities using the FIFA license, such as video game tournaments and digital products like NFTs.
FIFA has stated that it plans to release games bearing its brand through third-party developers and publishers. FIFA President Gianni Infantino assured fans that the only authentic, real game with the FIFA name will be the best one available for gamers and football fans, emphasizing that the FIFA name will remain forever and be the best.
As the football gaming world eagerly awaits more details on EA Sports FC in July, it remains to be seen how the rebranded franchise will impact the landscape of football gaming and if FIFA can develop a big-budget rival to EA's popular series.