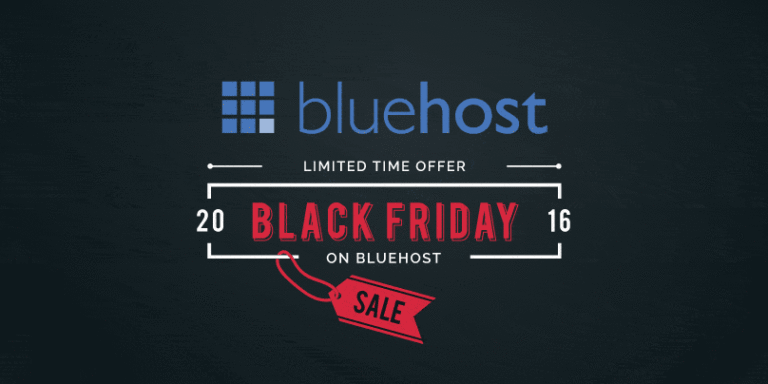 Black Friday is around the corner and everyone's excited about it. On the day, you will be seeing steep discounts on not just the tangible products, but on virtuals too. This article is about Bluehost: One of the pioneers in the website hosting industry.
Bluehost could be just another hosting provider, but what makes it different from others is its reliability. Its customer support, cheap plans, simple setup process, and handy tools, all sum up for powerful blogging.
Bluehost on Black Friday is discounting almost all of its plans to attract more customers. If you're a blogger or even an individual with a business, you must have already realized the value of having a website for your business. Maintaining an online presence is the most important feature in this internet world. And what time could be better for such enthusiasts to shop on?
So here we are, detailing its discounted plans of all types. The Black Friday offer will be running from 29th November 2020 to 2nd December 2020.
Name-Cheap Deals
Black Friday Deals
Others
WooCommerce hosting plan for $5.95/month
WordPress hosting plan for $16.95/month
50% off on top-level domains like .net, .com, .org. .biz etc.
How to activate?
Click on this Bluehost website link
Click on Get Started
Choose an appropriate plan
You'll be asked to create a domain name or you can add an external domain if you already own one. Can skip this option for later too.
Fill in the account details or sign in with a Google email address. (Activate it)
Here, you'd be asked for additional packages like Codegaurd, SEO tools, SiteLock security etc which can be avoided or added as you wish
Choose a payment plan and pay securely via Credit/Debit cards.
What all you get?
For a basic plan of $2.65, you will be given a free website (one) with the domain name of your choice. Further, you can have 5 parked domains and 25 sub-domains under it. This plan gives a 50GB of SSD space to store your media and provides unlimited bandwidth with a free SSL certificate for your site.
Further plans of Plus, Choice Plus, and Pro include unlimited features as storage space, websites, domains, one-year mailbox, and security.
Note: You may see the prices were normal for now, as the dates are set for 29th November 2020. The discounted prices, as said in the post will be live from 29th November to 2nd December 2020 as Black Friday deals. Stay tuned.