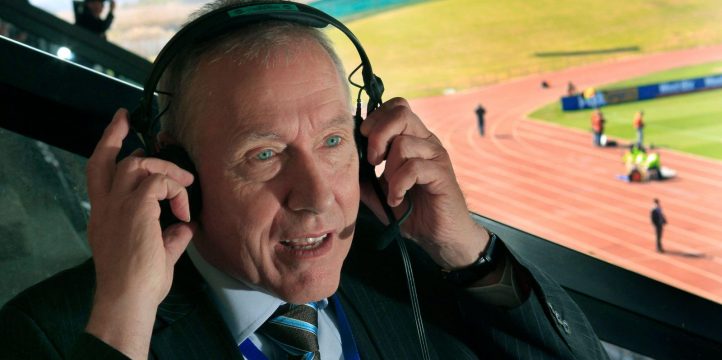 For over three decades, the voice of Martin Tyler has been synonymous with the most thrilling moments in Premier League football. Now, after 33 years, the legendary commentator is stepping down from his role at Sky Sports, leaving behind a legacy that has shaped the landscape of football broadcasting.
Tyler, 77, has been the lead commentator for Sky Sports since the inception of the Premier League in 1992. His distinctive voice has narrated some of the most iconic moments in football history, from Sergio Agüero's title-winning goal for Manchester City in 2012 to Steven Gerrard's stunning strikes for Liverpool. His commentary has not only captured the drama and emotion of the game but has also become an integral part of the Premier League's identity.
The veteran commentator's departure from Sky Sports marks the end of an era. However, it's important to note that Tyler is not retiring. His voice, which has become a staple for football fans across the globe, will continue to resonate in the football world.
Tyler's career in broadcasting spans nearly 50 years, starting with ITV in the 1970s before joining Sky in 1990. His work has been recognized and celebrated by fans and professionals alike, earning him the title of Premier League Commentator of The Decade in 2003. His commentary has been a constant companion for international listeners, covering Champions League, World Cup finals, and Euro tournaments for broadcasters in the United States, Australia, and beyond.
His departure from Sky Sports has been met with heartfelt tributes from colleagues and fans alike. Gary Hughes, Sky Sports' director of football, thanked Tyler for his "unparalleled contribution and dedication" to their coverage over the last 30 years. Jamie Carragher, former Liverpool defender and now Sky Sports pundit, described Tyler as "one of the all-time legends of the commentary box."
Tyler's influence extends beyond the commentary box. His work has also been featured in the FIFA video games from 2005 to 2020, and he had a guest role in the 2005 film 'Goal'. His commentary has not only shaped the way we watch and understand football but has also left an indelible mark on popular culture.
As we bid farewell to Tyler's tenure at Sky Sports, we celebrate his remarkable contribution to football broadcasting. His voice has been the soundtrack to countless unforgettable moments, capturing the highs and lows of the game with passion, insight, and an unmistakable flair. His departure leaves big shoes to fill, but his legacy will continue to inspire future generations of football commentators.