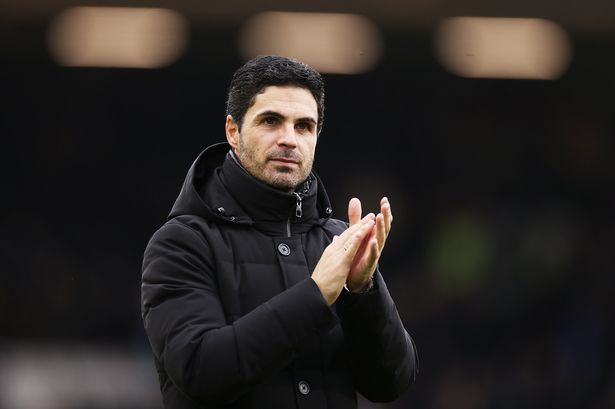 Arsenal manager Mikel Arteta has played down the notion that the upcoming Premier League match against Manchester City at the Etihad Stadium will decide the title, despite acknowledging the quality of Pep Guardiola's side. Meanwhile, Guardiola stresses the importance of the match, as both teams remain in the title race.
Arsenal currently holds a five-point lead over reigning champions Manchester City, although they have played two more games. With the Gunners' recent run of three consecutive draws against Liverpool, West Ham United, and Southampton, City have closed the gap at the top of the table.
Arteta acknowledged the talent of the opposition, stating, "Every opponent demands and questions different things of you and gives you different opportunities. There's no difference with that team [City], it's just obviously the quality of the opponent is as good as it gets anywhere in the world." However, he remains adamant that the clash will not decide the Premier League title.
Facing a City side that has won 11 of their last 12 matches and reached both the Champions League semifinals and FA Cup final, Arteta emphasized the need for perfection from his players. He said, "We knew we had to go to the Etihad, we know that after that we're going to have five more difficult games. We know tonight is going to be a massive game. Is it going to define the season? The answer is no."
Arsenal will have to face City without center-back William Saliba, who is yet to return to training due to a back problem. Arteta, however, refused to rule him out for the remainder of the season. Granit Xhaka's availability is also in doubt due to illness.
City manager Pep Guardiola offered a slightly different take on the match, stating, "It is really important, but not decisive because there are many games to play for both sides. We can't deny how important it is." Guardiola praised Arsenal's quality and skills, as well as Arteta's ability to take the team to a higher level of competitiveness and aggression.
In anticipation of a fiercely contested match, Guardiola said, "Perfection doesn't exist in football. You cannot be perfect and win the game." He expects both teams to be intense and aggressive, making for an exciting and competitive contest.