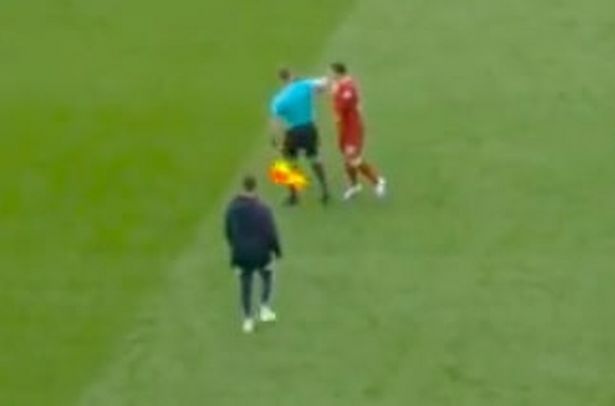 Assistant referee Constantine Hatzidakis is under investigation by the Professional Game Match Officials Limited (PGMOL) following an incident during the first half of the Liverpool vs Arsenal match. Hatzidakis allegedly elbowed Liverpool's Andy Robertson in the jaw, leaving former referees shocked and anticipating a lengthy ban for the linesman.
The confrontation between Hatzidakis and Robertson occurred on Sunday at Anfield, after a heated first half. Although referee Paul Tierney booked Robertson for his protest, footage revealed that Hatzidakis had seemingly struck the player on purpose. The PGMOL is now investigating the situation, which has left many of Hatzidakis' former colleagues baffled.
Keith Hackett, former general manager of the PGMOL, wrote in the Telegraph that he believes the recent incident between Fulham's Aleksandar Mitrovic and referee Chris Kavanagh might have played a role in Hatzidakis' unusual behavior. Hackett expressed sympathy for Hatzidakis, but described the situation as "unprecedented" in English football and predicted a lengthy ban if the linesman is found guilty.
Mark Clattenberg, a high-profile former Premier League referee, expressed doubt in his column for the Mail that Hatzidakis intended to strike Robertson. However, he also hinted at a suspension for the assistant referee, pointing to the eight-match ban Mitrovic received for pushing Kavanagh last month.
Mark Halsey, another former colleague of Clattenberg, argued on talkSPORT that an independent regulatory commission had "set the precedent" by banning Mitrovic for eight games. Halsey suggested that if Hatzidakis is found guilty, he should receive an eight-game ban as well.
Ex-Premier League referee and Sky Sports' go-to official, Dermot Gallagher, claimed that Hatzidakis is a "really great guy" and he had "never heard of or seen anything like" the incident. Gallagher stressed the importance of self-control for referees and expressed shock at the possibility that the intensity of the situation might have influenced Hatzidakis' actions.
In 2021, referee Darren Drysdale received a four-match ban and an FA charge for misconduct after squaring up to Ipswich midfielder Alan Judge. The PGMOL and the Football Association (FA) are currently investigating the Hatzidakis-Robertson incident, with both parties expected to be interviewed in the coming days.