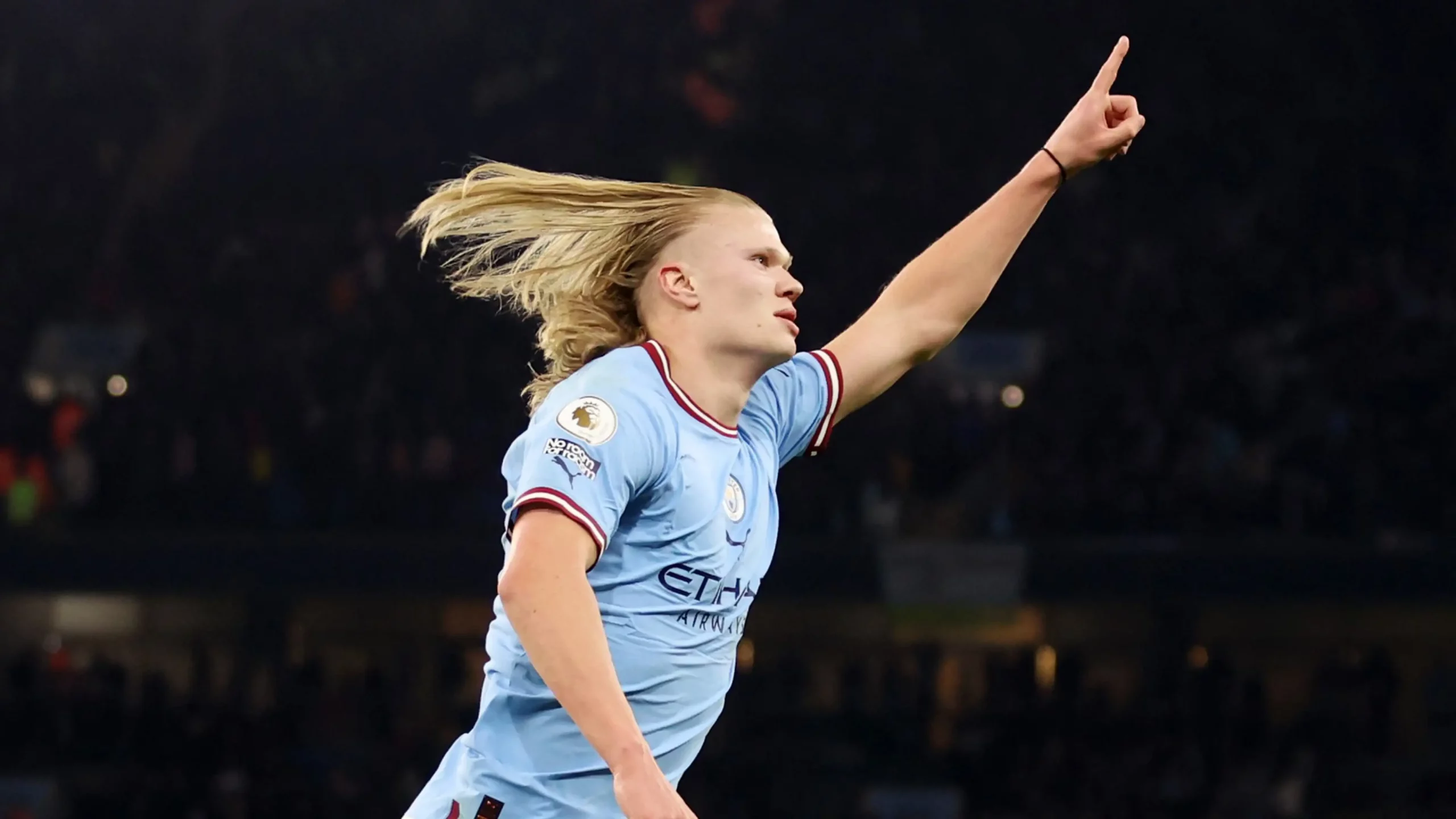 Erling Haaland, the 22-year-old Norwegian striker for Manchester City, has made history by scoring his 50th goal of the season, breaking a 92-year-old record in the process. Haaland is the first player in the English top-flight to score 50+ goals in a single season since Tom 'Pongo' Waring of Aston Villa in 1930/31.
During Manchester City's match against Fulham, Haaland scored a low penalty past Fulham's goalkeeper Bernd Leno in less than three minutes, taking his tally to 34 goals in the Premier League this season. This achievement matches the record set by Alan Shearer in 1995 and Andy Cole in 1993, both of whom scored 34 goals in a 42-game league season.
Despite a couple of injuries this season, which limited Haaland to only 30 appearances, he has managed to equal Shearer's joint record with fewer games. The prolific striker's goal-scoring output has outstripped the modern confines of the Premier League era, surpassing entire clubs' goalscoring records.
This season, Haaland has scored four hat-tricks in the league, one in the FA Cup, and a five-goal outing against RB Leipzig in the Champions League. He is also Europe's top goalscorer across the top five leagues, outperforming Victor Osimhen at Napoli, Kylian Mbappe at PSG, and Harry Kane at Spurs.
Manchester City's bid for the top-flight crown continues as they have six league matches left to play, an FA Cup final against Manchester United, and at least two more Champions League games against Real Madrid in the competition's semi-finals. This gives Haaland a minimum of nine more matches to bolster his tally and get as close to Dixie Dean's 63 goals in a single season as he can.
Haaland has been a crucial asset in helping Man City chase down a third consecutive top-flight title, with Pep Guardiola's side also attempting to win a historic treble this season. The all-time record for most goals in a single season in English football, previously set at 60 by Dixie Dean in 1928, still remains a challenge for Haaland.
In recent games, Haaland has shown no signs of slowing down, scoring six goals across City's last four Premier League games and assisting twice in their 4-1 win over Arsenal. Under Guardiola's management, Haaland's outstanding form has helped the team find renewed ways to win.
As Manchester City seeks to reach their second-ever Champions League final, they will face current holders Real Madrid at the Santiago Bernabeu on May 9, the same stadium where they were knocked out of the competition last season.