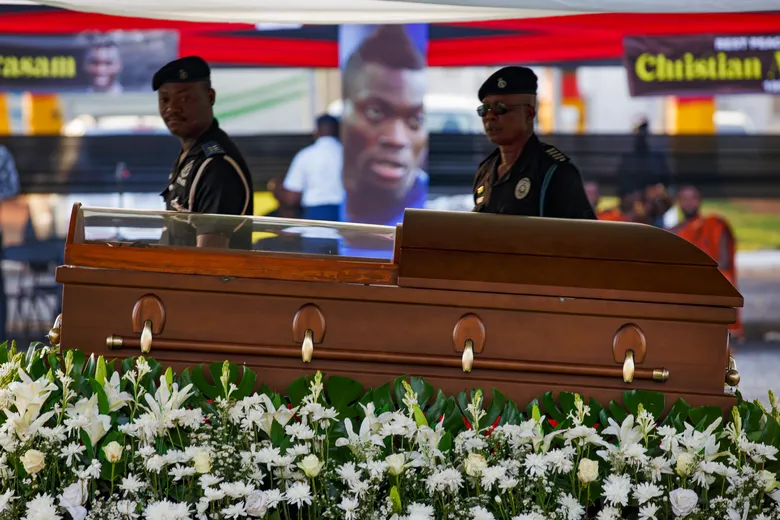 Accra, Ghana – The football world today pays tribute to Christian Atsu, the late Ghanaian football star, who was honored with a state funeral in his home country. Atsu, who made significant contributions to his national team and various clubs throughout his career, will be remembered for his talent, dedication, and sportsmanship.
The Ghanaian government's decision to grant Atsu a state funeral highlights the impact he made not only on the field but also on the lives of millions of fans. The ceremony was held in the capital city of Accra, where family members, teammates, friends, and government officials gathered to pay their respects and celebrate the life of the accomplished footballer.
Lionel Messi, who recently had an argument with Paris Saint-Germain (PSG) officials regarding his contract and future with the club, took to social media to express his condolences. The Argentine legend posted on Twitter, stating, "Christian Atsu was a great footballer and an even greater human being. My thoughts and prayers are with his family, friends, and the people of Ghana. Rest in peace, dear friend."
Atsu, who began his professional career with FC Porto in Portugal, made a name for himself as a winger with an eye for goal and a knack for creating scoring opportunities for his teammates. During his career, he played for several clubs, including Chelsea, Newcastle United, and Malaga, making significant contributions at each stop.
The Ghanaian star represented his country on numerous occasions, earning over 60 caps for the Black Stars. Atsu played a crucial role in the team's success in various international tournaments, including the Africa Cup of Nations, where he won the Player of the Tournament award in 2015.
As the football world comes together to remember and honor Christian Atsu, his legacy as a talented footballer and compassionate human being will live on. The state funeral in Ghana serves as a testament to his impact on the sport and the lives of those who knew him.