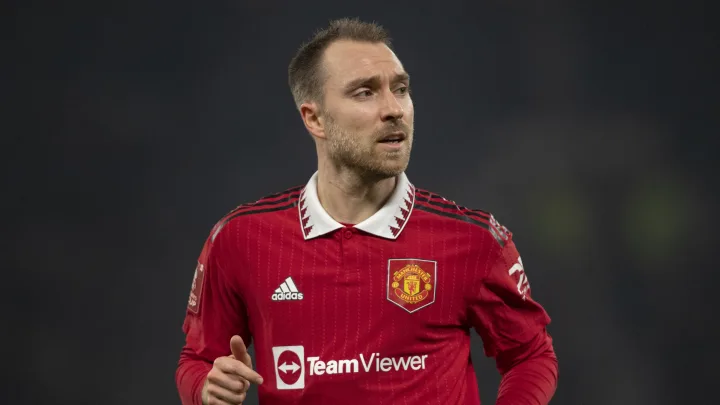 Manchester United fans can breathe a sigh of relief as midfielder Christian Eriksen makes a remarkable return to the squad ahead of their Premier League encounter against Everton on Saturday. The 30-year-old Danish international had suffered an ankle injury during an FA Cup match against Reading in January, which many feared would sideline him for the rest of the season.
Eriksen's injury occurred after a rough tackle from Reading striker Andy Carroll during United's 3-1 victory. The talented midfielder left Old Trafford on crutches, and his absence was felt, as he had contributed seven assists and one goal in 19 Premier League appearances before the injury. United's manager, Erik ten Hag, expressed his frustration at the tackle and is relieved to have Eriksen back earlier than expected.
"We are very happy with his progress. He is ahead of schedule," Ten Hag said, adding, "I was so angry about that tackle. It was a really bad tackle and a bad injury. I thought we lost him for the whole season."
Although Eriksen's return is a significant boost for the Red Devils, they will be without left-back Luke Shaw for the upcoming match against Everton. Shaw was substituted in the first half of Wednesday's 1-0 win over Brentford due to an undisclosed issue. Ten Hag will monitor Shaw's progress in the coming week before making any further decisions about his availability.
Manchester United's upcoming fixtures include crucial Premier League matches as well as Europa League and FA Cup encounters. Here's a list of their remaining games:
April 8: Everton (H) – Premier League, 12:30 pm
April 13: Sevilla (H) – Europa League, 8 pm
April 16: Nottingham Forest (A) – Premier League, 4:30 pm (Sky Sports)
April 20: Sevilla (A) – Europa League, 8 pm
April 23: Brighton (N) – FA Cup semi-final, 4:30 pm
April 27: Tottenham (A) – Premier League, 8:15 pm
April 30: Aston Villa (H) – Premier League, 2 pm
May 4: Brighton (A) – Premier League, 8 pm (Sky Sports)
May 7: West Ham (A) – Premier League, 7 pm
May 13: Wolves (H) – Premier League, 3 pm
May 20: Bournemouth (A) – Premier League, 3 pm
May 28: Fulham (H) – Premier League, 4:30 pm
TBA: Chelsea (H) – Premier League