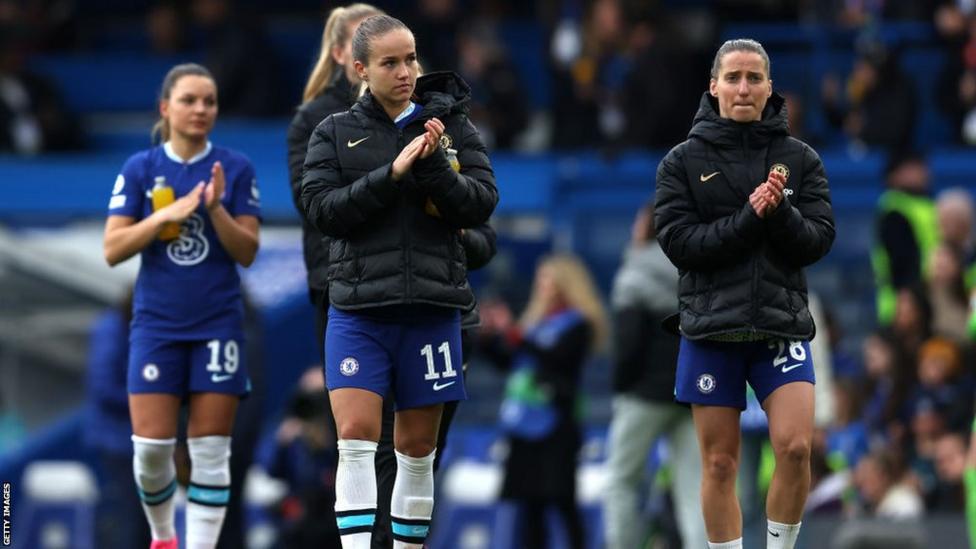 Chelsea battled it out against a formidable Barcelona in the first leg of the Champions League semi-final, but ultimately succumbed to a 1-0 defeat. Despite the loss, Chelsea showed promise and determination, leaving fans optimistic about their prospects in the return leg at Camp Nou.
The match at Stamford Bridge began with a stunning goal from Barcelona's Caroline Graham Hansen just four minutes in, leaving Chelsea scrambling to regroup. The home team, still recovering from their crushing 4-0 defeat in the 2021 Champions League final against Barcelona, was eager to prove their resilience this time around.
Injuries to key center backs Millie Bright and Kadeisha Buchanan left Chelsea's defense in the hands of Maren Mjelde, Magdalena Eriksson, and Jess Carter. With Lauren James benched, Chelsea struggled to maintain possession against the dominant Barcelona side.
Despite a rocky start, Chelsea grew into the game and began to show promise. Guro Reiten found the net for the Blues, but the goal was disallowed due to an offside call on Sam Kerr. Chelsea's attacking prowess, particularly through the Reiten-Kerr partnership, began to shine and threaten Barcelona's defense.
However, Chelsea's direct and predictable play, combined with insufficient support from full backs, hindered their chances of equalizing. The record-breaking crowd of 27,697 fans at Stamford Bridge attempted to boost the team's morale, but Chelsea still struggled to find the breakthrough they desperately needed.
The introduction of Lauren James at halftime injected some much-needed energy into the Chelsea side. Despite this, Barcelona maintained control of the match, frustrating the home team's efforts to level the score.
Chelsea's performance showed significant improvement compared to their previous encounter with the Liga F frontrunners, particularly in their defensive efforts. Manager Emma Hayes remained positive after the match, stating, "You have to be in the tie. We're in the tie."
With a 1-0 deficit heading into the second leg at Camp Nou, Chelsea must now rally and overcome Barcelona's dominance to secure a place in the final in Eindhoven. The London side's performance at Stamford Bridge, though not perfect, demonstrates that hope isn't lost for the return leg.