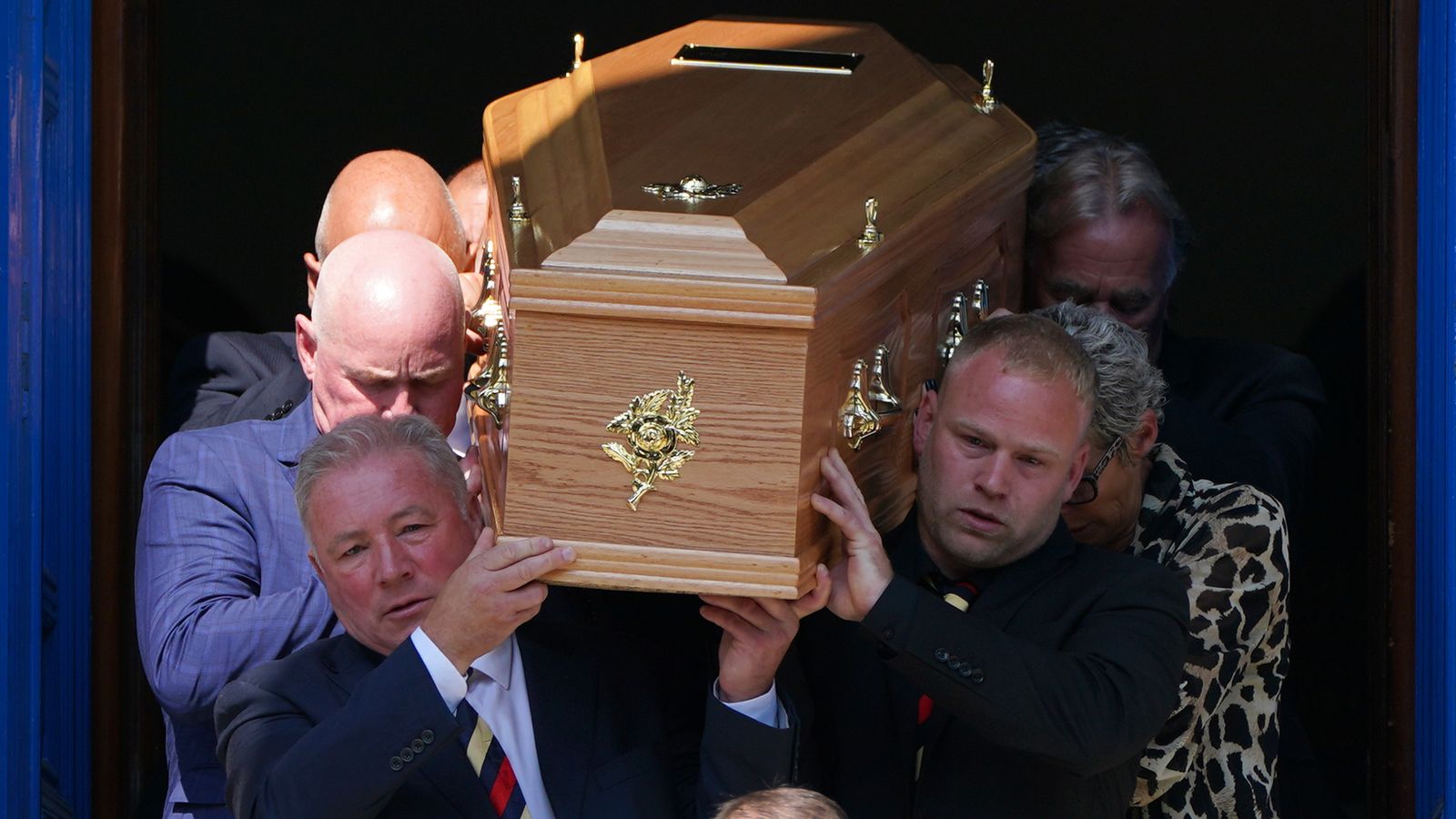 Earlier this month, former Scotland international goalkeeper Andy Goram passed away at the age of 58 after a brief fight with oesophageal cancer. Former Scotland manager Craig Brown expressed his belief that the memorial service was a "one-off" occasion.
The funeral for goalkeeper Andy Goram took place in Glasgow, where players and fans of the Rangers football team were present to pay their respects.
In the beginning of this month, the former Scotland international footballer and cricketer passed away at the age of 58 following a brief fight with oesophageal cancer.
On Monday afternoon, funeral services were held at Wellington Church in the city's west end. Among those in attendance was Goram's former manager for Scotland and Manchester United, Sir Alex Ferguson.
Among those who helped carry Goram's coffin into the chapel were former Rangers players Ally McCoist and John Brown, as well as the goalkeeper Alan Rough, who played alongside Goram for Scotland and Hibernian.
The previous manager of Scotland, Craig Brown, expressed his opinion that the service was a "one-off."
"Everyone had a lot of affection and respect for him. Andy Goram was regarded by everyone, even opposition players and management. He was an amazing goalie, "added Mr Brown.
"In addition to this, he possessed an exceptional character. When he was leaving the (training) camp in the United States, he sent me a letter, which I still have today; the letter is a brilliantly crafted piece of literature, and it comes from his heart. And I believe that you were able to feel today that he was in the hearts of all of the people.
"It was a wonderful occasion to celebrate. The genuineness, as well as the lightheartedness, came out very clearly.
"It was an extraordinary service; I have never before attended anything even quite comparable to it. Andy had a significant say in that evidently. He came into the service with a clear goal in mind, and I believe he was successful in achieving it."
In the interior of the hearse was a floral tribute that had been sent from Sir Rod Stewart. "One of the best that Scotland has to offer. Andy, may you rest in peace "it said.
After the casket was brought into the church, the mourners who had gathered outside to pay their respects were led inside to see the service. There were perhaps twenty of them.
Earlier, the funeral procession made its way past Ibrox Stadium, where a large crowd had gathered to pay their respects along Edmiston Drive.