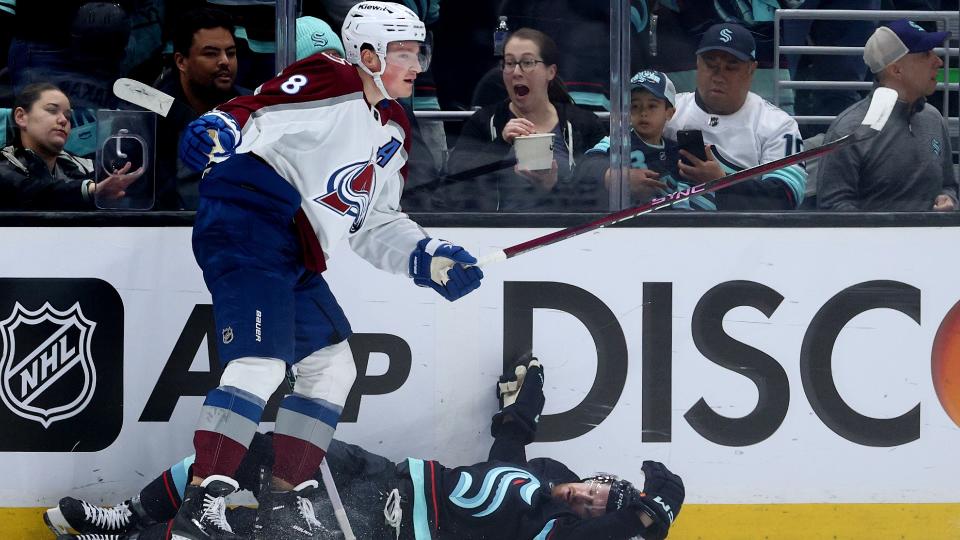 The Colorado Avalanche will be without their star defenseman Cale Makar in a critical Game 5 against the Seattle Kraken. Makar received a one-game suspension after a late hit on Kraken forward Jared McCann during Game 4 of their first-round playoff series.
The incident took place in the first period of Seattle's 3-2 overtime victory, which evened the series at 2-2. McCann chased down a loose puck during a breakaway and took a shot that was stopped by Avalanche goaltender Alexandar Georgiev. As McCann slowed down and looked away, Makar delivered a shoulder-to-shoulder check that sent McCann crashing into the glass.
McCann remained on the ice for several minutes, receiving medical attention before heading to the locker room. He did not return for the remainder of the game and has been ruled out for Game 5. Kraken coach Dave Hakstol expressed his frustration with the hit, describing it as "late" and stating that McCann could miss more than just one game.
Initially, Makar was given a five-minute major penalty, which was later reduced to a two-minute minor for interference upon further review. The NHL Department of Player Safety held a hearing to discuss potential further punishment for Makar, ultimately deciding on a one-game suspension.
In their explanation, the Department of Player Safety noted that Makar's hit occurred well outside the allowable window for finishing a check and emphasized that McCann was not eligible to be checked on the play. While Makar argued that he assumed the puck would bounce into the corner and the play would continue, the NHL stated that the onus was on Makar to ensure this before initiating contact.
Makar expressed regret for the incident, saying, "It's unfortunate. I never want to injure guys. Hopefully, he's all right." He also noted that he didn't feel like he tried to hit McCann too hard and that he wasn't trying to hurt anyone.
Following the suspension announcement, fans and experts alike have voiced their opinions on social media, with many expressing dissatisfaction with the decision to downgrade Makar's penalty during the game.
The Avalanche and Kraken will face off in Game 5 at Ball Arena in Denver, with both teams looking to gain an edge in the tightly contested series.