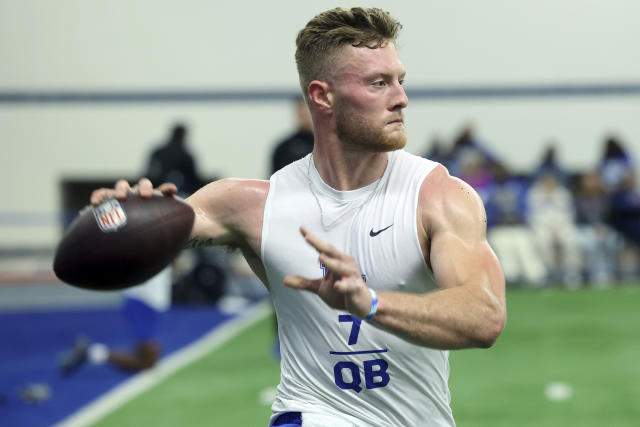 The NFL Draft always comes with a fair share of surprises and speculation, but this year, a Reddit post has had a significant impact on the odds for the top pick. Up until recently, Bryce Young was the comfortable favorite to go No. 1 overall in the draft. However, an anonymous post on the r/sportsbook subreddit has caused Kentucky quarterback Will Levis' odds to surge.
The Reddit user, known as "SaleAgreeable2834", claimed that Levis had informed friends and family that the Carolina Panthers would indeed choose him as their first overall pick on Thursday. The post has led to a drastic shift in the odds, with Levis' odds moving from +4000 to +500 at BetMGM. Young's odds, on the other hand, dropped from -2000 to -1400.
Despite the changes, Young remains a strong favorite with a -1400 designation, indicating a roughly 90% chance of him being picked first overall. Nevertheless, the rapid movement in Levis' odds has stirred up discussions and debates among NFL fans and analysts alike.
Levis, who didn't have an outstanding final college season at Kentucky, has become one of the most debated prospects in this year's draft class. Critics point out his lack of accuracy, turnovers, and mediocre production last season. However, his physical skills have not gone unnoticed, and he has unexpectedly become the favorite to go second overall, a pick owned by the Houston Texans.
The sudden change in odds based on an anonymous Reddit post is a testament to the volatility of the NFL Draft betting market. The event is known for unexpected twists and turns, and this year's draft, featuring a predicted run on quarterbacks early on, is no exception.
With the NFL Draft just around the corner, it remains to be seen whether Levis will indeed be the Panthers' No. 1 pick. Regardless of the outcome, this incident serves as a reminder of the unpredictable nature of the draft and the influence social media can have on betting markets.