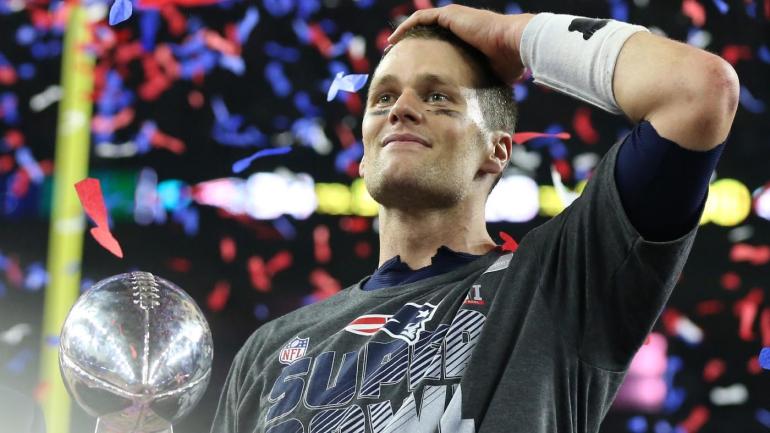 The fact that so few people ever get the opportunity to star as themselves in a film may well be for the best, given that it appears to be a task that is not without its challenges. At least, that's what Tom Brady has said.
Over the course of the past two decades, the quarterback of the Buccaneers has made guest appearances in a number of films and television shows. The vast majority of the time, when he appears on film, he is playing himself, which is a role that he will once again be playing early in the new year in the film "80 for Brady."
The movie, which is based on a true event, is about four women in their 80s who happen to be enormous fans of Brady, and as a result, they decide that they want to attend Super Bowl LI in Houston. The film is based on a true tale. Although Sally Field, Jane Fonda, Rita Moreno, and Lily Tomlin are the film's four main actors, you will also be able to witness Brady portraying the role of Brady.
Brady was recently questioned about his experience playing Tom Brady in an interview with Variety. The question centred on his role in the film. You might find his response to be unexpected.
Brady remarked that he found the topic to be "very engaging." "I find it challenging, and at times rather difficult."
After that, Brady went into further detail about what exactly makes it such a difficult task.
"Because you're constantly paying attention to yourself as you are," Brady explained, "rather than the character you're playing." "I don't believe that comes naturally to me at all. My entire 23-year career in athletics has been spent competing as myself. There is no need to act. On the field is going to be me. When I'm irate, I can't help but be irate. When things are going well for me, I am joyful. I'm not acting out a part here. Therefore, when I have the opportunity to play a role, I am not programmed to do so. Aside from the fact that I've appeared in a few ads, I don't have a lot of previous work experience to draw from."
Brady also finds it difficult to understand when other actors maintain their roles, which is understandable given that he is playing the role of himself in the show. After filming a sequence with Fonda at one point in the production, it seems that Brady experienced some confusion for a short period of time.
"You're on set and you're going through your part, and she says something, but it's not really on script," Brady explained to the actor. "What do you do?" "I'm thinking to myself, 'Is this really her everyday life?' Then the scene cuts, and I can't tell if she's still acting like her role because I've lost her. Even if I did, I wouldn't know the proper protocol for doing that."
And just in case you were wondering, Brady has stated that after recording a scene, he does NOT continue to act in character.
Brady stated, "I will return to being myself."
Therefore, instead of being the Tom Brady from 2016 who led the Patriots to victory over the Falcons in the Super Bowl, he reverted to being the Tom Brady from 2022 who is working on a movie about Tom Brady.
There are a number of movies that you can see if you are interested in learning how well Brady performs the role of Brady. Not only did he star as himself in the film adaptation of "Entourage," but he also had a brief appearance in the sequel to "Ted." Brady has also played himself on "Family Guy" and "The Simpsons," so if you're searching for something to watch on the small screen, you can check him out there.
In addition, Brady has played the role of himself in a number of advertisements, such as those for Foot Locker, Uggs, and Subway. He has also appeared in other commercials for health care providers. In addition, he has acted in commercials for candy and beds. In this timeless masterpiece for "Funny or Die," he also appeared as himself in a role.
Although Brady might not be thrilled by the prospect of playing himself on film, he has certainly had a lot of practise doing it in the past.
According to Variety, his most recent film, "80 for Brady," does not yet have an official release date, but it is anticipated that it will be shown in theatres at some point in the year 2023.