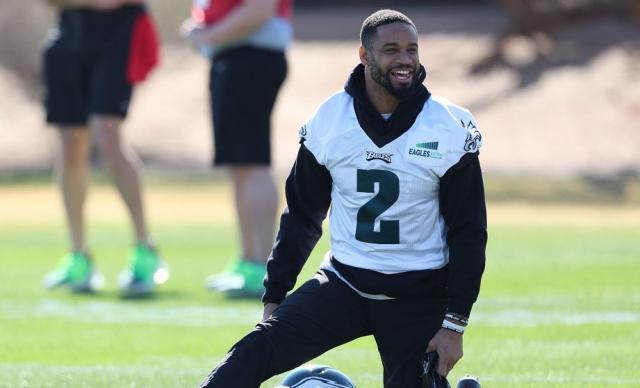 The Philadelphia Eagles announced today the release of five-time Pro Bowl cornerback Darius Slay after three seasons with the team. The decision comes after contract negotiations between Slay and the Eagles reportedly broke down, according to sources at CBS Sports.
Slay, a standout player in the Eagles' secondary, joined the team in 2020 after a trade with the Detroit Lions. During his tenure in Philadelphia, he solidified his reputation as one of the NFL's top cornerbacks, earning Pro Bowl nods in each of his three seasons with the Eagles.
The 32-year-old cornerback has been an influential figure on and off the field, contributing to the Eagles' defensive success and locker room morale. However, the team's inability to reach a new contract agreement with Slay ultimately led to his release.
ClutchPoints reports that Slay broke his silence on the Eagles' "bombshell decision," expressing disappointment but also gratitude for his time in Philadelphia. The cornerback is now a free agent and is expected to generate significant interest from several NFL teams looking to bolster their secondary.
Sports Illustrated speculates that the Atlanta Falcons could be a potential landing spot for Slay, given their need for a reliable cornerback. The Athletic also mentions several other teams that might be interested in signing the talented free agent, including the New York Giants and Los Angeles Rams.
As the market for cornerbacks heats up, the race to sign Slay is expected to be highly competitive. The veteran player's experience, on-field skills, and leadership qualities will undoubtedly make him a valuable addition to any team.
Darius Slay's departure leaves a significant gap in the Eagles' secondary, which the team will need to address in free agency or the upcoming NFL draft. As Philadelphia moves on from the Slay era, fans and analysts alike will be closely watching how the team restructures its defense and how Slay's career unfolds with his next NFL destination.