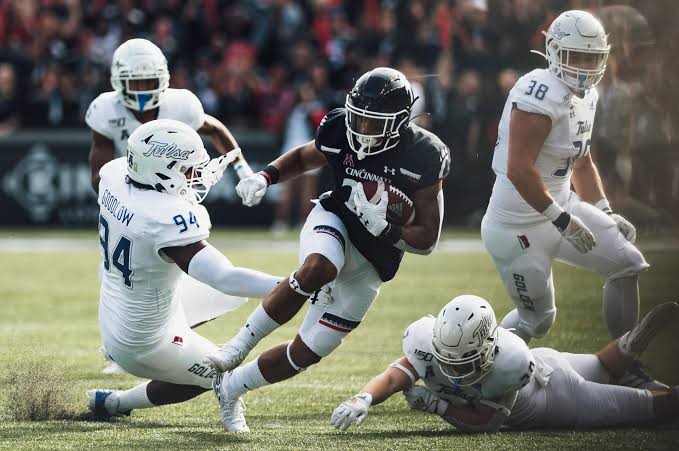 As the NFL Draft in Kansas City approaches, anticipation and speculation are at an all-time high. The Kansas City Chiefs are expected to address their pressing need for wide receiver depth, and one potential solution lies in the University of Cincinnati's explosive playmaker, Tre Tucker.
Small in Stature, Big on Talent
Although Tucker's physical traits might not make him a first-round prospect, his game is built on speed, quickness, and explosion, making him a dangerous weapon in the right offensive system. Despite ranking in the 10th percentile for height, weight, and arm length among wide receivers, Tucker's 10-yard split acceleration ranks in the impressive 94th percentile.
With Patrick Mahomes at the helm, the Chiefs could capitalize on Tucker's strengths by not putting him in contested downfield situations. Instead, they can utilize his speed and agility to create space and generate big plays.
Career-Best Season with the Bearcats
Tucker's 2022 season saw career-high numbers, as he notched 52 receptions for 672 receiving yards and three touchdowns. A consistent performer, he averaged nearly 13 yards per catch during his four years with the Bearcats. Though he only had one rushing attempt in 2022, his skillset suggests that he could see more action in the running game at the NFL level.
Special Teams Standout
In addition to his prowess as a receiver, Tucker was a standout kick returner for the Bearcats. In 2020, he earned a second-team All-AAC selection for his special teams performance, boasting an impressive 29.9 yards per return. Although his role in the return game diminished in 2022 as his offensive responsibilities grew, Tucker's kick return abilities could prove invaluable to the Chiefs' special teams unit.
Loyalty and Dedication
Amidst the current trend of college football players frequently transferring between programs, Tucker's unwavering commitment to the University of Cincinnati stands out. He remained with the Bearcats throughout his entire college career, only becoming a featured offensive weapon later in his tenure. This loyalty and dedication speak volumes about Tucker's character, making him an even more attractive prospect for Kansas City.
With the NFL Draft just weeks away, the Kansas City Chiefs have an opportunity to address their wide receiver needs and bolster their special teams with the dynamic talent of Cincinnati's Tre Tucker.