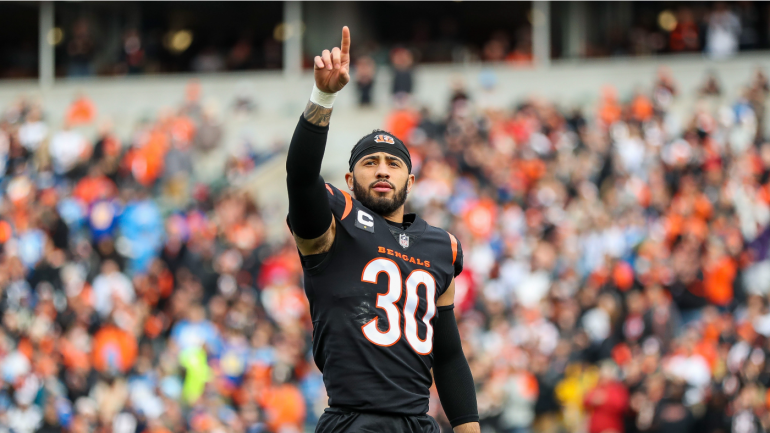 The Bengals and Jessie Bates III have worked well together over the past four seasons, but it is currently unknown whether or not the two organisations will work together again in the future. The veteran safety did not sign a new long-term deal prior to Friday's deadline for franchise-tagged players to sign long-term contracts, therefore the deadline was missed. Now, considering that Bates has stated that he does not intend to play under the tag in 2022, it is reasonable to ask: is it merely a matter of time before he shows up for another team?
In spite of the fact that both Bates and the Bengals have made it clear that they want to remain together, money speaks (or, in this case, doesn't talk), and the fact of the matter is that the All-Pro defensive back currently has three choices available to him: 1.) join with the team and play without a tag; 2.) sit out the rest of the season; or 3.) ask to be traded.
The first choice is the most straightforward and will enable Bates to re-evaluate his options about free agency in 2023. However, this choice exposes Bates to the possibility of suffering an injury and does not provide any long-term stability. Bates would be able to prevent in-game injury during a prolonged holdout, but it would likely only delay an inevitable divorce from the team. In addition, he would be expected to return for at least six games in order to avoid losing an accumulated season toward 2023 free agency. However, a trade would allow both parties to "benefit" from their inability to come to an agreement on a long-term deal. Although the Bengals could technically hold on to Bates until 2024 by using two consecutive franchise tags, a move would bring about the strongest opposition from the Bengals.
If Bates is indeed determined to sit out rather than play under the tag, and if the Bengals are interested in the top safety, then the following eight teams could be potential suitors:
They are obviously focused in improving Robert Saleh's lineup, particularly on the defensive side of the ball. And if they were to pair Bates with the new starting safety Jordan Whitehead, they would have a powerful combo on the defensive end. Lamarcus Joyner, who is now 31 years old and is recovering from a significant injury, might be better off coming off the bench. But can general manager Joe Douglas really give away the farm for Bates when he wouldn't do the same thing for Jamal Adams or Marcus Maye, and after already paying Whitehead a decent amount of money (up to $14.5 million)?
It can be summed up as follows: Ron Rivera is a defensive-minded coach, and the secondary, and more specifically the safety position, is the weakest link in his otherwise tenacious defence. The Washington Redskins have financial flexibility going into 2022, and depending on how Carson Wentz plays quarterback, they may be able to reset that spot in 2023 and save tens of millions of dollars in the process. Bates would be a significant boost in comparison to Rivera's current starting outfielders, Bobby McCain and Kamren Curl, and would provide Rivera with a genuine centerfielder.
Jimmie Ward has quietly but slowly ascended to become one of San Francisco's premier players on the back end of a stingy "D." On the other hand, Jaquiski Tartt and linebacker hybrid Marcell Harris, who started a combined 21 games for the 49ers in 2021, are no longer with the team. Their replacement, Talanoa Hufanga, was selected in the fifth round of the 2021 draught and played in a few games as a rookie. Since Trey Lance will now be the starting quarterback for the 49ers, it is expected that they would rely even more on their defence to make another run at the championship. However, the 49ers have already made a significant investment in cornerback Charvarius Ward.
In spite of the fact that they traded for Matt Ryan, it is very evident that the Colts are constructed to win with their defence in the year 2022. After the defensive line (played by DeForest Buckner), linebackers (played by Darius Leonard), and corners, the only position on the team that does not have a legitimate star performer is safety (Stephon Gilmore or Kenny Moore). Rodney McLeod is reliable, but he would perform better at the No. 3 position, and he is only a rental player anyhow. Meanwhile, Justin Blackmon is showing promise despite having recently recovered from an Achilles injury. In addition, Bates was conceived and brought up in the state of Indiana.
When it comes to a major name on the block, when exactly can Bill Belichick ever be counted out of the running? Although mainstay Devin McCourty will turn 35 this year, and top playmaker J.C. Jackson is gone after signing with the Chargers in free agency, both Adrian Phillips and Kyle Dugger have done good things at the position for their strong defence. However, the Patriots will be without these two players. Belichick is still riding an old-school defensive strategy, but Bates would help mitigate the loss of a difference-maker and has the potential to play many positions for the Patriots.
The new general manager, Dave Ziegler, has already demonstrated that he is determined to go all in or go home, so there is no reason to stop now. Trevon Moehrig, who was selected in the second round of the 2021 NFL Draft, started all 17 games he played in as a rookie for his team. However, the hard-hitting Johnathan Abram is not certain to be a part of their long-term plans because his fifth-year option was not picked up by the team. They have plenty of cash ($21.6 million in remaining cap space in 2022) to pay Bates up front, and established secondary pieces are important in the high-scoring AFC West.
Micah Parsons and Trevon Diggs are two of the best defensive playmakers in the NFL, and Dallas already has them on their team. Imagine for a moment that they decided to add Bates to the mix by allocating some of the remaining $22.5 million in cap space for 2022. Although Jayron Kearse has played just one complete season as a starting quarterback in the NFL, he was a dominant force during his breakout season in 2021. Malik Hooker is also doing very well for himself, although he has not yet played an entire season and his re-signing bonus will not break the bank. Jerry Jones enjoys making a splash whenever possible, and this one would assist strengthen the title hopes of their defence both in the short term and in the long term.
If there is one team that has made a significant move at pretty much every position of need this offseason, it would have to be the Eagles. They have addressed holes at receiver (A.J. Brown), defensive tackle (Jordan Davis), pass rusher (Haason Reddick), linebacker (Kyzir White), and cornerback (Kyzir White). During this offseason, the Eagles have addressed holes at pretty much every position of need (James Bradberry). The only position that is still open is safety, and Jaquiski Tartt has been brought in as competition for it during camp. However, Anthony Harris and Marcus Epps are now playing those roles for the team. GM, ever eager to engage in trade Howie Roseman has admittedly had trouble finding long-term solutions at safety via the draught. Despite this, he emphasises the value of being patient when constructing the squad and follows what he preaches. Therefore, Bates, who played for the Bengals club that currently has Jemal Singleton working as an assistant head coach for the Eagles, represents the ideal fit for a team looking to quietly compete in the NFC East.