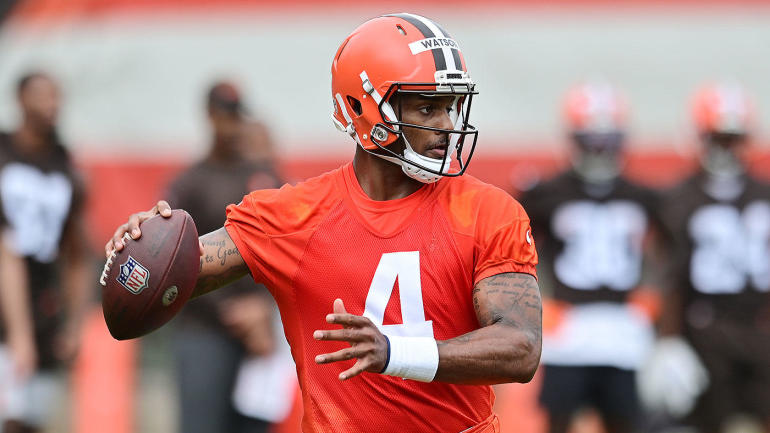 After the conclusion of mandatory minicamps in the middle of June, the National Football League normally takes a break. The week after the Fourth of July is typically when things get back to normal after the holiday break. During this time, there isn't much going on in terms of business for the NFL.
Here is a rundown of some of the most important unfinished business from the summer, some of which ought to be wrapped up before the start of training camps later this month.
In the latter half of June, a disciplinary hearing that lasted for three days was held to evaluate whether or not Watson had violated the NFL's Personal Conduct Policy by engaging in allegedly inappropriate sexual conduct during a number of massage sessions. The deadline for post-hearing briefs was July 12th. It is possible that disciplinary officer Sue L. Robinson, a retired judge from the United States District Court, will issue a judgement at any time, but it is anticipated that the decision will be made before the Browns begin training camp on July 27.
The received wisdom indicates that the Browns quarterback will be suspended for a minimum of six games and possibly up to a full year. Because of the disciplinary action that was taken, both parties have the opportunity to file an appeal within three business days, provided that Robinson finds that a policy violation occurred. Robinson's sentence might be increased, decreased, or kept the same depending on the outcome of the appeal, which would be presided over by Commissioner Roger Goodell or someone else he names as his designee.
If Watson receives a ban that lasts for the entirety of the 2022 regular season or longer, the fully guaranteed, five-year, $230 million contract that he signed as part of the March trade that sent him from the Texans to the Ravens will become null and void. In essence, Watson's contract would be put on hold until 2023, at which point it would resume with tolling. This means that the year of his deal that was originally scheduled to begin in 2022 would now begin in 2023, and additional years in the contract would similarly be moved back by one year. Instead of Watson's contract being up for renewal following the 2026 season, it would be done so following the 2027 season.
If the suspension was shorter, there would be no need for tolling. Since Watson's base salary in 2022 is set to be $1.035 million, he will suffer a loss of $57,500 (which is equivalent to one-eighteenth of the $1.035 million) for every week that he is suspended. However, this only applies to the employee's base compensation throughout the suspension period.
Because of the way the contract is written, Watson's signing bonus of $44.965 million, which he received as part of the deal, will not be at risk in any of the two possible outcomes. In any scenario, Watson's pay guarantees won't be rendered null and void.
When it comes to signing a new deal, Jackson has kept his negotiation strategies private from the public eye. Under the terms of his fifth year option, which is worth $23.016 million, he is slated to participate in the 2022 season. Over the course of Jackson's annual Funday with LJ event, which took place over the weekend in South Florida, he was a little more candid than usual. He expressed to Safid Deen of USA Today that he was looking forward to signing a new contract before the start of training camp and that he did not intend to hold out.
Jackson, who represents himself in this matter, aroused eyebrows when he uploaded a picture to his social media sites that contained the words "I need $." He asserted that it was not a message to the Ravens regarding his upcoming deal. Instead, he mentioned that it was from the movie "How High," which is one of his favourites, and that he found the photo to be humorous.
Regardless of the circumstances, Jackson would be within his rights to insist on a fully guaranteed contract on par with Watson's. Jackson has a greater amount of experience than Watson. In 2019, the year he was named Most Valuable Player of the NFL, he set a new single-season record for most rushing yards by a quarterback with 1,206 yards, and he also led the league in touchdown passes with 36. Watson has never even been selected for the first team All-Pro, much less won the NFL MVP award. There are also no worries regarding Jackson's behaviour while he is not on the field of play.