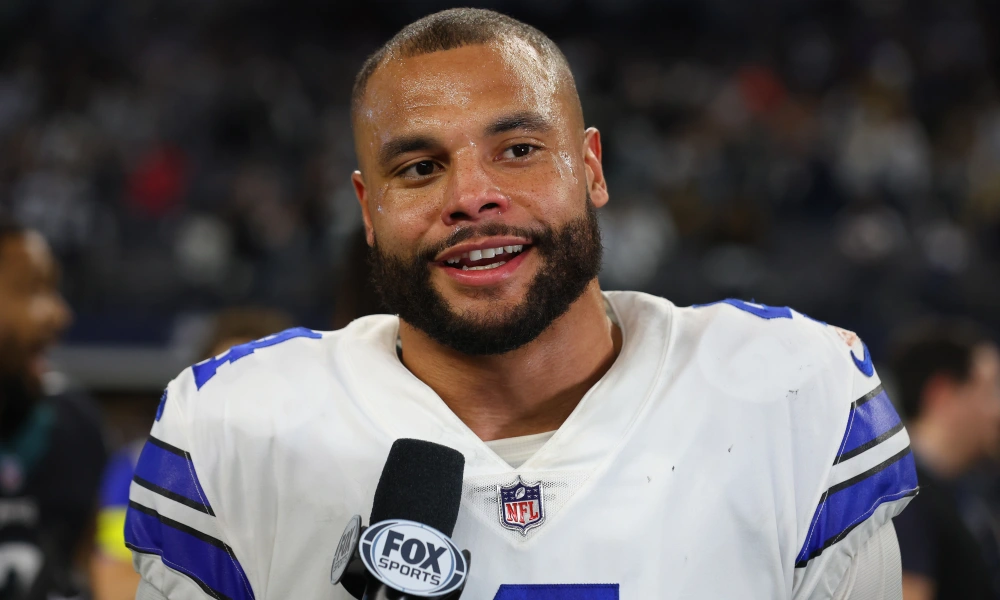 As the 2023 NFL season kicks off, Dallas Cowboys' star quarterback Dak Prescott finds himself at the midpoint of his four-year, $160 million contract. However, the franchise faces a significant issue concerning Prescott's salary cap hit, which skyrockets to a staggering $59.4 million in the final year of his deal, the 2024 NFL season.
With Prescott's cap hit more than doubling from a manageable $26.8 million in 2023 to a daunting figure in 2024, rumors have been circulating around the Cowboys' organization about the possibility of negotiating a contract extension to alleviate the financial strain.
In a recent article from The Dallas Morning News, Cowboys insider Calvin Watkins shared insights from sources within the organization, who believe that a contract extension for Prescott is likely to happen this year. The key question remains when the extension will take place and what the new financial structure will look like.
A contract extension for Prescott could prove beneficial for both parties. The star quarterback would secure more total earnings and continue his tenure with the Cowboys, while the team gains the flexibility to spread the payments over a more extended period, reducing the hefty 2024 cap hit. This financial maneuvering would allow the Cowboys to invest in other roster areas, bolstering the team's overall strength.
Watkins highlighted that the magic number for elite quarterbacks is typically around 20% of the total salary cap. In 2023, Prescott occupies approximately 12% of the salary cap, which dramatically increases to 23% in 2024. Only Deshaun Watson's contract currently accounts for a higher salary cap hit than Prescott's in 2024.
Recent contract extensions for other star quarterbacks, such as Russell Wilson and Aaron Rodgers, have been structured to represent roughly 20% of the salary cap in 2024. The Cowboys could follow a similar model for Prescott's contract, ensuring long-term stability for their most crucial player.
Cowboys owner Jerry Jones has repeatedly expressed his confidence in Prescott, emphasizing his desire to win another Super Bowl ring. Despite the quarterback's lack of NFC Championship appearances, Jones remains convinced that Prescott will eventually achieve this milestone.
During the 2023 NFL offseason, Jones said, "I'm very strong on Dak. We have, in my mind, a unique person, a unique football player, a unique quarterback… This whole thing reflects the upside that I feel in Dak… It's building around Dak."
To support Prescott, the Cowboys recently made several key moves, including the dismissal of offensive coordinator Kellen Moore and the assignment of playcalling duties to head coach Mike McCarthy. Additionally, the team acquired wide receiver Brandin Cooks in a trade with the Houston Texans, further bolstering Prescott's offensive arsenal for the upcoming season.