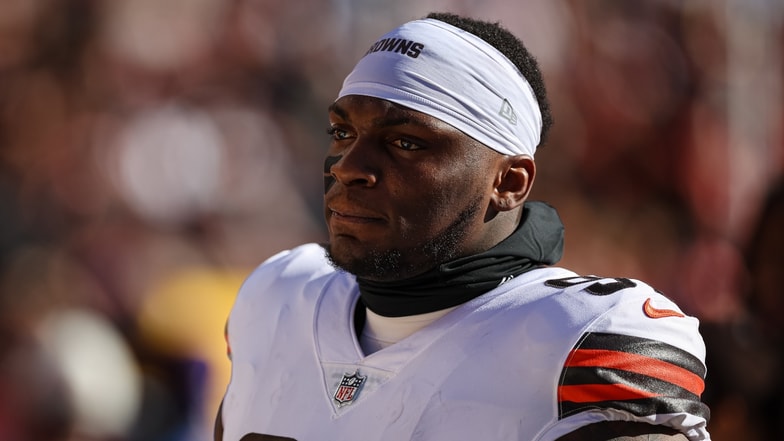 Cleveland Browns defensive tackle Perrion Winfrey, 22, has been charged with misdemeanor assault after allegedly causing bodily injury to a woman he was dating. According to court documents obtained by Fox 26 Houston, the incident occurred on Monday, with Winfrey arrested at 7 p.m. CT the same day.
The alleged assault involved Winfrey grabbing and pulling the woman, identified as Brianna Mack, in a way that caused her bodily injury. Winfrey has since been released on a $1,000 bond.
The 6-foot-4, 292-pound defensive tackle was selected by the Browns in the fourth round, 108th overall, in the 2022 NFL Draft. Winfrey completed a successful rookie season with the team, recording 22 combined tackles, one tackle for loss, and half a sack. His college career began at Iowa Western Community College before he transferred to the University of Oklahoma. During his time at Oklahoma, Winfrey earned second-team All-Big 12 honors in both of his seasons and led Big 12 defensive linemen in pressures during his senior season, according to Pro Football Focus.
Despite his on-field success, Winfrey has faced disciplinary issues since joining the Browns. In September, Mary Kay Cabot of Cleveland.com reported that he was disciplined for an unspecified incident. Moreover, Winfrey missed a key game against the Bills last season due to a concussion sustained while riding a scooter.
The Browns organization has been actively seeking help at the three-technique defensive tackle position this offseason, and this latest development may heighten the urgency to find additional support. With the NFL Draft just over two weeks away, the Browns may be considering targeting help at the position in addition to exploring free agent options.
Although it is unclear whether Winfrey will be cut from the team due to this incident, it is evident that he faces an uphill battle to remain on the roster. The hiring of Jim Schwartz as defensive coordinator could have provided Winfrey with an opportunity to further develop his skills on the field, as Schwartz's scheme is known for maximizing defensive line talent. However, if Winfrey cannot overcome his off-field issues, he may never get the chance to capitalize on this opportunity.
In response to the charges against Winfrey, a Browns spokesperson stated that the team is "aware of the situation and gathering more information."