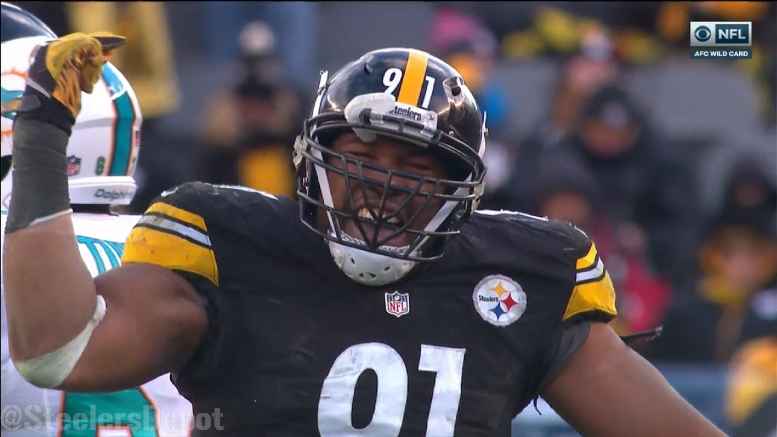 At the age of 29, defensive lineman Stephon Tuitt of the Pittsburgh Steelers has decided to retire from the sport.
The former second-round pick made the decision to retire on Wednesday and announced his decision.
In a statement, Tuitt explained his decision to leave the National Football League by saying, "With respect to the Steelers organisation, my teammates, and coaches, I would like to officially announce that I have come to the decision to retire form the NFL," "I am grateful that I have been given the chance to represent the city of Pittsburgh for the past eight seasons, and I consider it a blessing that I am able to walk away from this match in good health. My brother Richard was taken from me in a senseless accident, and now that I have finished my education at the University of Notre Dame, I am aware that I am being called to make a transition beyond the realm of football. I would like to express my gratitude to everyone for the love and support they have shown me both on and off the field, and I would especially like to thank The Rooney Family, Coach Tomlin, and the entire Pittsburgh organization. To be a part of such a historic team and to contribute to its success was a tremendous honor. Go Steelers."
Richard, his younger brother, was killed in a car accident in June of last year.
Tuitt was a rock for the Steelers in the middle of their defence, where he possessed the ability to win one-on-one matchups and get penetration up the gut. During his career in Pittsburgh, he recorded 34.5 sacks and 246 tackles, including 48 tackles for a loss of yardage. Tuitt finishes his career with the Steelers ranked at position No. 20 on the all-time sacks list.
Tuitt finished the 2020 season with a career-high 11 sacks, but he was sidelined for the entire 2019 campaign due to a knee injury.
In a statement, Steelers general manager Omar Khan thanked Stephon for everything he did for the team over the course of his eight-year career in Pittsburgh. "I want to thank Stephon for all he did for the Steelers during his eight-year career in Pittsburgh," Khan said. "The fact that he is successful off the field as well as on it says a lot about the kind of person and athlete he is. Stephon has always carried himself with dignity and maturity, and he is a wonderful husband, father, son, and family man in his personal life.
He has always handled himself with class and maturity. Now that he has informed us that he will be retiring from football, we are all excited to see what he becomes as a person and professional after graduating from Notre Dame this past month. We all wish him the best of luck in his future endeavors. We cannot wait to see what the future holds for him and we will continue to be there for him in any way that we can."
The retirement of Tuitt leaves a significant void upfront for the Pittsburgh Steelers defensive line, which was already undersized, and had difficulty stopping the run in the previous season when he was not playing.