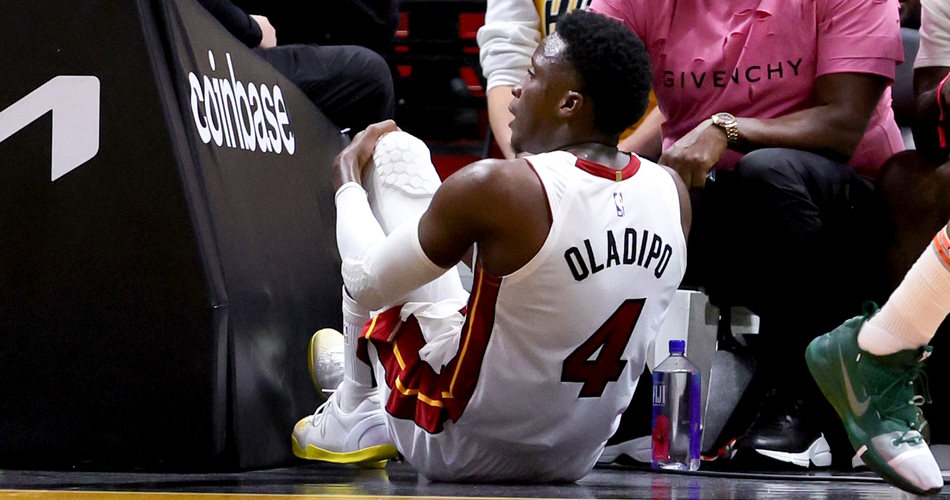 Victor Oladipo, the 30-year-old shooting guard for the Miami Heat, suffered a season-ending injury to his left knee during Saturday night's Game 3 of the NBA Playoff series against the Milwaukee Bucks. Oladipo sustained a patellar tendon tear while attempting a layup, as his foot slipped and crumpled beneath him.
The injury marks another unfortunate setback in Oladipo's injury-riddled NBA career. The veteran player has struggled with multiple knee injuries, including a ruptured quad tendon in his right knee in January 2019, which required surgery and kept him off the court until March 7, 2022.
This latest injury is not only a blow to Oladipo but also to the Miami Heat, who are already contending with other injury concerns. In Game 1 of the series against the Bucks, Tyler Herro broke two fingers and underwent surgery to repair the third and fourth metacarpal on his right hand. He is expected to be out for at least six weeks, which could extend through the NBA Finals if the Heat advance that far.
Adding to the Heat's woes, NBA rules prevent the team from replacing either Herro or Oladipo on their playoff roster, unless their squad decreases to nine players or less.
Moreover, the Heat's star player, Jimmy Butler, sustained a bruised glute during Game 3 against the Bucks, forcing him to leave the game for treatment. Although Butler returned to the bench, he did not participate further in the game. The 33-year-old had led the game with 30 points, helping the Heat take a 2-1 lead in the series against the Bucks.
Meanwhile, the Bucks are dealing with their own injury concerns, as Giannis Antetokounmpo missed the second straight game due to a back contusion suffered in Game 1. His status for Game 4 remains unclear, although he began individual work on the court in Miami. Bucks' coach Mike Budenholzer commented, "We'll continue to monitor him. We'll see how he feels from the session today and see how he wakes up tomorrow."
Despite the challenges, the Miami Heat currently lead the first-round series against the Milwaukee Bucks 2-1, with Game 4 scheduled at home. Oladipo's future in the NBA remains uncertain, as he navigates yet another devastating injury setback in his career.