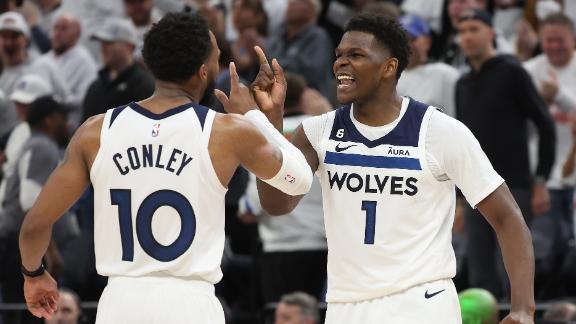 The Minnesota Timberwolves fended off elimination with a hard-fought 114-108 overtime victory over the Denver Nuggets in Game 4 on Sunday. Anthony Edwards put up an impressive 34 points, while Karl-Anthony Towns contributed a double-double with 17 points and 11 rebounds to keep their playoff hopes alive.
Nuggets star Nikola Jokic matched his playoff career high with 43 points, along with 11 rebounds and six assists, but it wasn't enough to secure a series sweep. Rudy Gobert's 14 points and 15 rebounds and Mike Conley's 19 points also played a key role in Minnesota's win. The teams will face off again in Game 5 on Tuesday in Denver.
The Nuggets, who seemed poised for a break before the second round, saw contributions from Jamal Murray with 19 points and Aaron Gordon with 14. The winner of the Suns-Clippers series, which Phoenix currently leads 3-1, awaits them in the next round.
Edwards, enjoying a breakout All-Star season, sparked a 23-9 Timberwolves run in the third quarter, scoring 16 points and helping his team establish a 12-point lead in the fourth. This marks a significant improvement from last year when Minnesota lost in the first round to Memphis after squandering three double-digit leads in the fourth quarter.
The 21-year-old Edwards stepped up his game this season, particularly when Towns missed 52 games due to a calf strain. Veteran teammates encouraged the young star to take charge and control games, and he delivered when it mattered most.
Despite being pushed to a fifth game, the Nuggets remain a strong contender for a deep playoff run. The team has demonstrated resilience even when two-time MVP Jokic is off the floor, with Aaron Gordon's performance as backup center helping the Nuggets outscore Minnesota by six points in Jokic's absence.