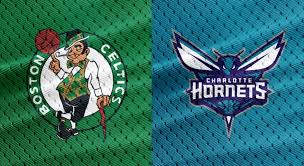 Boston Celtics vs Charlotte Hornets game is going to be held in the oldie of US, the heart of Celtics, Boston. Both will be seen clashing on 7:30 PM ET – 01/30/2019 at TD Garden.
Preview of Boston Celtics
 Last Monday, Celtics have a fine win over nets, recording 112-104 victory, it was their sixth win out of last seven games played by them, they only lose the way against Warriors, the ones who are maintaining 11 games win streak.
   They are ranking 5th in Eastern Conference Standings, After opening quarter Celtics are leading by six, and by ten at the half of the season.
     Their record is 6-1, in there last 7 games, held within two weeks, with the differential of 7.9, moreover the recorded 2-5 against spread, -7.4 average at pre-game line and 0.4 against the spread.
Preview of Charlotte Hornets
 Monday night, Charlotte Hornets sent the New York Knicks home, recording 101-92. In their last game, four of the players arising Hornets make score in double digits.
 During their last 10 games they have been coming Boston with a 5-5, and are 7-17 on road this season. They have won over or under two times in the last two weeks, while drooping under four times.
Last game of Hornets vs Celtics
Boston Celtics beat Hornets, making 119 and Celtics 103, on 19 November 2018. But in their previous meeting Celtics droop under Hornets .
Prediction
Celtics are better in dimes made (25.9 to 23.8) and Hornets are better in turnovers committed (12.3 to 13.1). Celtics are the  favorite at home and Vegas odds give them a -8 spread and predict them to beat the odds today for another home victory, Charlotte Hornets vs Boston Celtics Prediction: Boston Celtics -8 (-106).