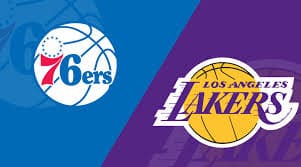 The Los Angeles Lakers will host the Philadelphia 76ers for their final game of the four-game homestand before they hit the road for six straight games. This will be the first time these two teams meet this season. Game will begin at Staples Center on 10:30 PM ET – 01/29/2019.
Los Angeles Lakers Preview
The Lakers finally ended their three-game streak with the 116-102 win against the Phoenix Suns. Although the team did not have Kyle Kuzma who missed the game due to a hip injury, Michael Beasley, who started in his place, scored eight points and dished out six dimes to help the team.
The Lakers find themselves ranking at the ninth spot in the Western Conference holding 26-24 and they have struggled to get it going in the absence of LeBron. However, they can't keep waiting for James to return and need to bring out their A-game.
Philadelphia 76ers Preview
  The Philadelphia 76ers are 9-4 in January and have looked really good. Led by Joel Embiid, who is averaging a monster double-double over the season, the Sixers hold a 32-18 record and are placed at the fourth spot in the East.
   With a tough schedule coming up after the game against the Lakers, they need to capitalize on the LeBron-less Lakers and get the win. They are coming off a tough loss against the Denver Nuggets and a win here will bring back some lost momentum.
The line up prediction of both teams is as following:
Predicted Philadelphia 76ers' starting line-up:
Wilson Chandler (F), Jimmy Butler (F), Joel Embiid (C), Ben Simmons (G) and JJ Redick (G)
Predicted Los Angeles Lakers' starting line-up
Brandon Ingram (F), Kyle Kuzma (F), Ivica Zubac (C), Rajon Rondo (G) and Kentavious Caldwell-Pope
The Lakers have the talent but without the best player in the NBA, they are not the same team and may need to struggle against a tough opponent like the 76ers. Philadelphia 76ers are predicted for the win.