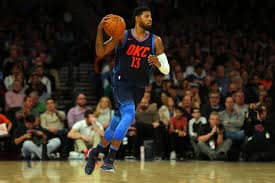 Thunders did play an important role on the Thursday night match defeating the New Orleans Pelicans. Paul George is titled NBA All-Star Starter. Thunders managed to win over Pelicans by 122-116. By the second quarter, Steven Adams had contributed most of his efforts taking the score to be 37-25 for Thunders.
With two minutes left in the game, the Pelicans were lacking behind with 118-113. But, by the next quarter of the game, Paul George had managed to score the three by increasing the lead by 121-113. In the next, Paul George played an important role in enhancing the defense of the game thereby winning the game.
Paul George: The NBA All-Star Gamer
By the match, Paul George had managed to score 23 points, 11 rebounds, and seven assists. He has also titled the NBA All-Star Game's starter for the next month's match. Russell Westbrook was no less in securing a massive win with 23 points, 16 assists, and 17 rebounds.
It was during the second quarter of the match that Steven Adams came in the forefront. By the second quarter, he had managed to score 12 of 20 points. Oklahoma City's Thunder lead had managed to rise in the second quarter by scoring 65-53 for the Thunders.
Loss of New Orleans
With the win against New Orleans Pelicans, the Oklahoma City Thunders have managed to maintain the record of 30-18. The team had managed to win a position of two behind Denver and four being Golden State. It stands in the fourth place for the Portland Trails, and Oklahoma City is just a game and a half behind.
Further Reserves are to be announced, and the audience is looking forward to if Russell Westbrook and Steven Adams will be able to make their way on the All-Star Game. The remaining reserves are to be announced on 7th February.