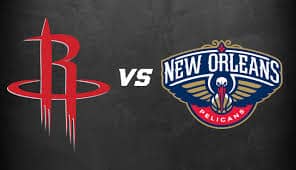 New Orleans Pelican appear to be reached Toyota Center,
Houston, TX in order to show up against Houston Rockets on 8:00 PM ET – 01/29/2019.
New Orleans Pelicans Preview
The Pelicans, have lost five out of their last six games, including Saturday's home game against the San Antonio Spurs.
New Orleans is maintaining rank of 3rd highest scoring team in the league by making 116.6 points per game. They stand 4th in passing at 26.8 assists per game and 8th in rebounding at 46.7 boards per game. Obnoxiously, the Pelicans are only 26th in scoring defense at 115.1 points per game allowed.
Houston Rockets Preview
Houston Rockets make the record of 5-2 with a point differential of 0.3 average, in the last 7 games played within last two weeks of session. Against the spread they recorded 2-5 with an average pre-game line of -3.9 and average outcome of -3.6ATS.
The Over/Under lines have averaged 224.5 in the last two weeks, Their games have topped the Over or Under 3 times, falling under 4 times, and all of their games have reputed about an Over/Under average of 10.4.
Last game of Pelicans vs Rockets
The last game, on 29 December 2018, Rockets win over pelican by making 104-108. Pelicans and Rockets have played total 61 regular session games, out of which Rockets won 35 times, and Pelicans won 26 games.
Predictions
The Rockets still aren't 100%, and the Pelicans are good enough to give them a run. The Pelicans rank as one of the worst teams in the league in defensive efficiency. So, it is predicted that the Pelicans have this game in their hand, will be having an easy win due to defensive deficiency. The Houston Rockets are the favorite at -10, 81.7% have picked the Houston Rockets to cover the spread.
The match between Pelicans and Rockets is something to definitely look out for. You need to gather up all your sides and eventually sit down in front of TV screens to check with your team.