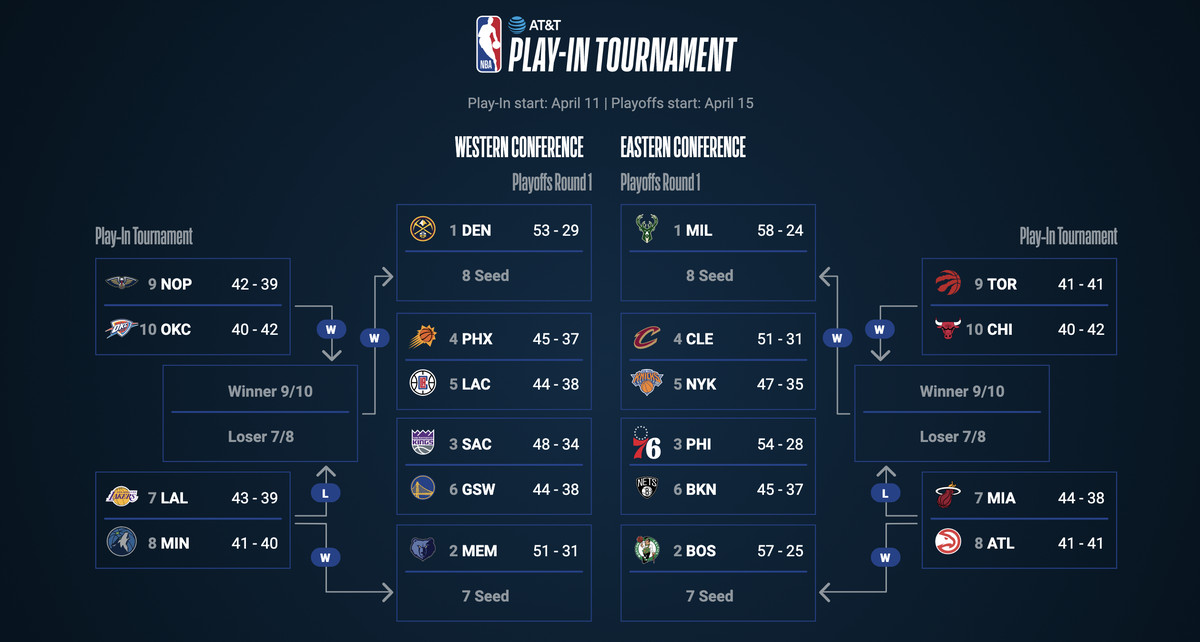 As the 2022-23 NBA regular season wraps up, the league now shifts its focus to the Play-In Tournament and the traditional 16-team playoffs. The Play-In Tournament starts on April 11, determining the final two playoff seeds in each conference, while the playoffs commence on April 15.
The Play-In Tournament is an exciting addition to the NBA postseason. Teams finishing seventh through tenth in each conference battle it out for the final two playoff spots, with the higher-seeded team hosting each game. The matchups for the tournament are as follows:
Tuesday, April 11:
Eastern Conference: No. 8 Atlanta Hawks at No. 7 Miami Heat
Western Conference: No. 8 Minnesota Timberwolves at No. 7 Los Angeles Lakers
Wednesday, April 12:
Eastern Conference: No. 10 Chicago Bulls at No. 9 Toronto Raptors
Western Conference: No. 10 Oklahoma City Thunder at No. 9 New Orleans Pelicans
Friday, April 14:
Eastern Conference: Winner of Chicago/Toronto vs. loser of Atlanta/Miami
Western Conference: Winner of Oklahoma City/New Orleans vs. loser of Minnesota/Lakers
The playoffs will begin on Saturday, April 15, with first-round series in the Eastern Conference hosted by Milwaukee, Boston, Philadelphia, and Cleveland, and series in the Western Conference hosted by Denver, Memphis, Sacramento, and Phoenix. All playoff series will be best-of-seven and follow the 2-2-1-1-1 format for home games.
This year's Play-In Tournament features strong teams like the Miami Heat, Los Angeles Lakers, and Minnesota Timberwolves, who could potentially upset higher seeds in the first round of the playoffs.
The NBA postseason is wide open this year, with no team winning 60 games in an 82-game season for the first time since 2000-01. Last year's finalists, the Golden State Warriors and Boston Celtics, are among the favorites, along with 2021 finalists Milwaukee Bucks and Phoenix Suns. Other top contenders include the Denver Nuggets, Philadelphia 76ers, and Memphis Grizzlies.
As for injuries, most star players, including LeBron James, Kevin Durant, and Stephen Curry, are healthy and ready for the postseason. However, New Orleans Pelicans' Zion Williamson and Los Angeles Clippers' Paul George remain sidelined with no clear return dates.
In the Western Conference, the top three seeds (Denver Nuggets, Memphis Grizzlies, and Sacramento Kings) may be more vulnerable to upsets due to their relatively weaker records and point differentials.
Fans can watch the NBA Playoffs on ABC, ESPN, TNT, NBA TV, or stream the games on Sling TV.