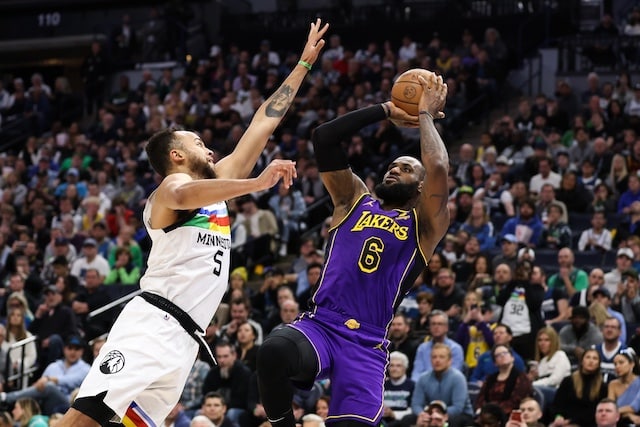 The NBA regular season ended on a high note as teams battled for their playoff positions, leading to some on-court altercations between teammates. The Golden State Warriors and the Los Angeles Clippers managed to dodge the play-in tournament in the Western Conference, leaving the Lakers to face the Timberwolves in a thrilling play-in matchup.
This year's play-in tournament schedule is as follows:
Hawks (East No. 8) vs. Heat (East No. 7): 7:30 p.m. ET, Tuesday
Timberwolves (West No. 8) vs. Lakers (West No. 7): 10 p.m. ET, Tuesday
Bulls (East No. 10) vs. Raptors (East No. 9): 7 p.m. ET, Wednesday
Thunder (West No. 10) vs. Pelicans (West No. 9): 9:30 p.m. ET, Wednesday
As the first round of the play-in bracket kicks off, fans and analysts alike eagerly await the outcomes of the most compelling matchups. The Lakers-Timberwolves game, in particular, garners attention due to the significant star power and playoff experience on both teams, as well as their tumultuous seasons navigating injuries and roster changes.
Pressure mounts on key players like Anthony Davis and LeBron James, whose performances could determine the fate of the Lakers in the playoffs. The Lakers' second-half surge may be rendered meaningless if Davis fails to deliver the dominant performance that led them to victory in the 2020 Bubble.
The Minnesota Timberwolves face significant challenges, with dysfunction at an all-time high and a potential roster overhaul on the horizon if they fail to make progress this week. Trading for Rudy Gobert has proven to be disastrous for the team, and recent incidents involving Jaden McDaniels and Gobert further complicate their situation.
When it comes to predicting the outcomes of the play-in games, the Lakers are favored in their matchup against the Timberwolves, while the New Orleans Pelicans are believed to have the edge against the Oklahoma City Thunder. In the Eastern Conference, the Miami Heat are considered the favorites against the Atlanta Hawks, and the Chicago Bulls are expected to come out on top against the Toronto Raptors.
As the play-in tournament unfolds, the stakes are high for all participating teams, and the pressure is palpable. With powerful storylines, intense rivalries, and nail-biting games in store, the road to the NBA playoffs promises to be an unforgettable journey.