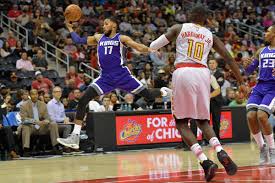 Atlanta Hawks flying to Sacramento King's Arena named Golden 1 Center to have showdown on  10:00 PM ET – 01/30/2019 exact.
Sacramento Kings Preview
      The Sacramento Kings seek for a win after carving up their past eight games. The Kings are averaging 113 points on 46.5 percent shooting and allowing 115.1 points on 46.7 percent.
    The Sacramento Kings recorded 38.3 percent from beyond the arc and 70.9 percent from the free throw line. The Kings are allowing 34.6 percent shooting from deep and are grabbing 44.5 rebounds per game.
   The Sacramento Kings have won their last four home games.
Atlanta Hawks Preview
        The Hawks appears to be winning their last game on the Clippers in astonishing road win on Monday night. It happen to be the first time they had  baffled the Clippers in nearly three years. The two teams last played back in November, when the Clippers defeated the Hawks in their home arena.
The Kings have played 6 games within the last two weeks. Their win-loss record is 2-4 with an average point differential of -12. Their record against the spread is 2-4, with an average pre-game line of 3.7 and an average -8.3 against the spread.
Last games of hawks vs kings
The Sacramento Kings won over Atlanta Hawks with 146 points met back in November.
Prediction
If the Kings are going to make a push for the pits, they have to win games like this against bottom of the barrel teams. Predictions lay the reasonable number with the Kings based on their strong sheers at home. While the Hawks are always capable of an explosive offensive performance, they are still ranked as one of the worst teams in the NBA for a reason. They are a boom-or-bust offensive team that routinely plays bad defense. The Kings will take this game and get back on the winning track.
Prediction: 
There is this high chance of the Sacramento Kings taking the trophy back home