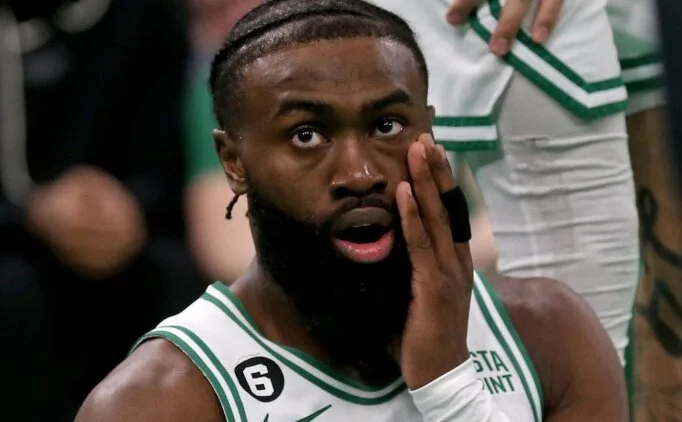 In the midst of swirling trade rumors and speculation about his future with the Boston Celtics, All-Star guard Jaylen Brown has stepped forward to set the record straight. Addressing the media after a recent game, Brown put to rest any doubts about his commitment to the team and his partnership with fellow All-Star Jayson Tatum.
"I will stay where I'm needed and treated correctly," Brown stated, referring to his future in Boston. This statement came after rumors linking the Celtics to a potential trade for superstar Kevin Durant, which had caused some uncertainty about Brown's role on the team.
Three-Way Call to Clear the Air
According to reports, Brown held a three-way call with Celtics President of Basketball Operations Brad Stevens and teammate Jayson Tatum to discuss the trade rumors and his future with the organization. Brown's commitment to the team was evident, as he sought to clear the air and ensure that his focus remains on winning championships with the Celtics.
A Nod from the GOAT
Brown's dedication to the team has not gone unnoticed, with basketball legend Michael Jordan drawing comparisons between himself and the Celtics' star. In an interview, Jordan praised Brown's work ethic, commitment, and impact on the team, stating that he sees similarities in their approach to the game.
Addressing the "Toxic" Fanbase
While Brown's loyalty to the Celtics is unquestionable, he did take a moment to address what he called an "extremely toxic" portion of the fanbase. However, he emphasized that the supportive majority far outweighs the negativity of a select few, and he remains committed to delivering success to the city of Boston.
Future in Boston
Brown's vague response, when asked about his long-term future in Boston, may have raised some eyebrows, but his recent statements and actions speak volumes about his dedication to the team. With a strong bond with Tatum and Stevens, it's clear that Brown intends to be a cornerstone of the Celtics' organization for years to come.
As the Celtics continue to chase their next NBA title, the partnership of Brown and Tatum will undoubtedly play a critical role in their success. With Brown's commitment to the team now firmly established, the future looks bright for the storied franchise.