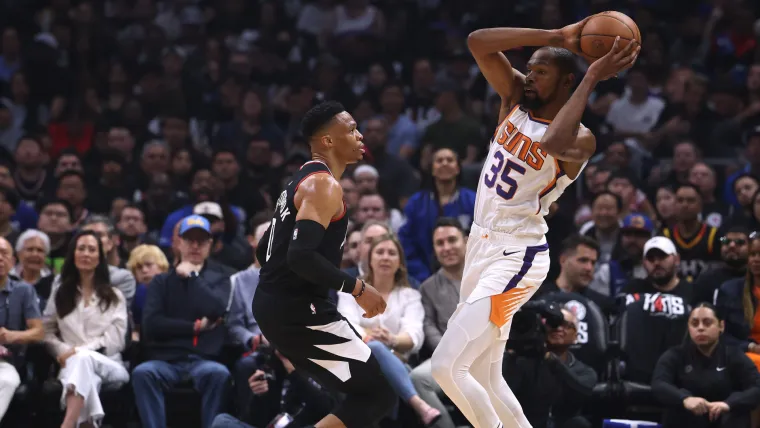 The Los Angeles Clippers fell to the Phoenix Suns 112-100 in Game 4 of their first-round playoff series. Despite the loss, Clippers star Russell Westbrook put up an impressive performance, scoring 37 points on 17-of-29 shooting. However, criticism towards Westbrook still persists, leading Phoenix Suns players Kevin Durant and Chris Paul to come to his defense.
With both Kawhi Leonard and Paul George sidelined due to knee sprains, the Clippers have relied heavily on Westbrook to carry the team. The 2017 MVP has done his best to fill the void, but the talent gap has proven difficult to overcome, leaving the Clippers trailing 3-1 in the series.
After Game 4, Suns coach Monty Williams expressed confusion over the criticism Westbrook faces. Durant, who has played alongside Westbrook in the past, echoed Williams' sentiments, arguing that those who criticize Westbrook's game simply don't appreciate his dedication and resilience.
"Somebody's gonna always find something that they don't like about you," Durant said. "Russ has been resilient his whole life. He comes to work, doesn't say much, just comes [to] hoop. When he retires, people are really gonna tell the truth about how they feel about his game."
Chris Paul added his support, highlighting Westbrook's competitive nature and suggesting that critics "don't know basketball." Paul, a close friend of Westbrook's, dismissed the negative talk as mere jealousy, saying, "people that do that, talk crazy, probably wish they could be in that situation."
Westbrook himself addressed the situation, emphasizing the need for a "next-man-up mentality" in the absence of Leonard and George. He called on the team to rally together and continue competing at the highest level, leaving everything on the floor.
With Game 5 set for Tuesday, the Clippers face a must-win scenario to stave off elimination. Westbrook will undoubtedly play a crucial role as the team fights for their playoff lives, hoping to prove his critics wrong in the process.
As for Durant, he believes that Westbrook's true legacy will be recognized after his retirement. "Right now, the fun thing to do is to make a joke out of Russ," he said. "But the way he's been playing since he got with the Clippers is showing everybody who he really is."