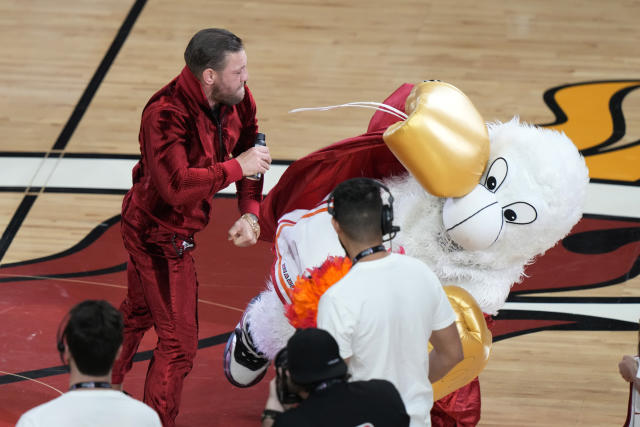 In a surprising turn of events at the NBA Finals, UFC star Conor McGregor took center stage, not for a basketball showdown, but for a boxing match with an unexpected opponent – Burnie, the beloved mascot of the Miami Heat. The incident, which took place during the halftime show of Game 4, has sparked a flurry of reactions from fans and spectators alike.
The Miami Heat, in a promotional skit, had Burnie square off against McGregor. Dressed in full boxing regalia, Burnie was no match for McGregor's infamous left hook. The UFC legend, known for his eight career knockouts, added another to his list, albeit a more humorous one. The mascot was swiftly knocked out, and for good measure, McGregor ensured Burnie was down with another punch as the mascot struggled to get up.
The incident, while part of a promotional act, has drawn mixed reactions from fans. Some found the spectacle amusing, while others criticized the stunt, questioning the decision to have the home team's mascot knocked out. The incident also sparked a wave of social media reactions, with fans drawing parallels between McGregor's knockout punch and the Miami Heat's performance against the Denver Nuggets.
Despite the unexpected halftime show, the real battle was on the court. The Denver Nuggets, much like McGregor, showed their stamina and relentlessness, slowly but methodically breaking down Miami's defense. The Nuggets have now taken a commanding 3-1 lead in the NBA Finals, inching closer to their first franchise championship.
While the stunt was designed to add spice to the halftime show, it also served as a reminder of McGregor's prowess outside the UFC ring. The Irishman, despite not having been in the octagon since his trilogy fight with Dustin Poirier, proved that he still packs a punch. Whether or not this will translate into a return to the UFC remains to be seen.